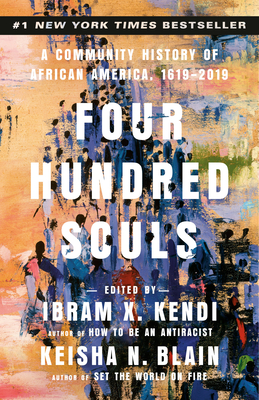 Four Hundred Souls: A Community History of African America, 1619-2019
Publication Date:
February 1st, 2022
The MIT Press Bookstore
1 on hand, as of Dec 8 10:45am
(SS:RI)
On Our Shelves Now
Description
#1 NEW YORK TIMES BESTSELLER • A chorus of extraordinary voices tells the epic story of the four-hundred-year journey of African Americans from 1619 to the present—edited by Ibram X. Kendi, author of How to Be an Antiracist, and Keisha N. Blain, author of Set the World on Fire.
FINALIST FOR THE ANDREW CARNEGIE MEDAL • NAMED ONE OF THE BEST BOOKS OF THE YEAR BY The Washington Post, Town & Country, Ms. magazine, BookPage, She Reads, BookRiot, Booklist • "A vital addition to [the] curriculum on race in America . . . a gateway to the solo works of all the voices in Kendi and Blain's impressive choir."—The Washington Post
 
"From journalist Hannah P. Jones on Jamestown's first slaves to historian Annette Gordon-Reed's portrait of Sally Hemings to the seductive cadences of poets Jericho Brown and Patricia Smith, Four Hundred Souls weaves a tapestry of unspeakable suffering and unexpected transcendence."—O: The Oprah Magazine
The story begins in 1619—a year before the Mayflower—when the White Lion disgorges "some 20-and-odd Negroes" onto the shores of Virginia, inaugurating the African presence in what would become the United States. It takes us to the present, when African Americans, descendants of those on the White Lion and a thousand other routes to this country, continue a journey defined by inhuman oppression, visionary struggles, stunning achievements, and millions of ordinary lives passing through extraordinary history. 
Four Hundred Souls is a unique one-volume "community" history of African Americans. The editors, Ibram X. Kendi and Keisha N. Blain, have assembled ninety brilliant writers, each of whom takes on a five-year period of that four-hundred-year span. The writers explore their periods through a variety of techniques: historical essays, short stories, personal vignettes, and fiery polemics. They approach history from various perspectives: through the eyes of towering historical icons or the untold stories of ordinary people; through places, laws, and objects. While themes of resistance and struggle, of hope and reinvention, course through the book, this collection of diverse pieces from ninety different minds, reflecting ninety different perspectives, fundamentally deconstructs the idea that Africans in America are a monolith—instead it unlocks the startling range of experiences and ideas that have always existed within the community of Blackness. 
This is a history that illuminates our past and gives us new ways of thinking about our future, written by the most vital and essential voices of our present.
Praise for Four Hundred Souls: A Community History of African America, 1619-2019
"The authors, each in their individual voice, raise a Black chorus, demystify racial assumptions, connect the dots of law and jurisprudence, lay the unspoken cultural truths bare, look at the engineering of the foundational aspects of institutional racism and show an America ashamed of its history. . . . Feel the endurance and resilience of how Blacks resisted, revolted, organized, demanded, protested and rebelled. Feel the joy in the absurdity of remaining American in the face of such obstacles."—George McCalman,  San Francisco Chronicle

"This collection teaches us that nothing about the latest crisis is new—that for four hundred years, Americans have whistled a 'Yankee Doodle Dandy' tune of national self-congratulation while reliving repeating cycles of racial violence and hypocrisy. . . . This project is a vital addition to that curriculum on race in America and should serve as a gateway to the solo works of all the voices in Kendi and Blain's impressive choir."—The Washington Post
"Two leading scholars of Black culture gather writers from across genres in this provocative, stirring anthology on the traumas and triumphs of African Americans across four centuries. From journalist Nikole Hannah-Jones on Jamestown's first slaves to historian Annette Gordon-Reed's portrait of Sally Hemings to the seductive cadences of poets Jericho Brown and Patricia Smith, Four Hundred Souls weaves a tapestry of unspeakable suffering and unexpected transcendence."—O: The Oprah Magazine, "20 of the Best Books of February 2021 to Fall in Love With"
"Edited by two of the brightest minds in all of literature and historical studies today, Dr. Ibram X. Kendi and Dr. Keisha N. Blain, the massive tome takes a community approach to telling the stories of Black history for the past four hundred years. . . . Absolutely essential reading for anyone who wants to know more about the incredible struggles and immense achievements of African America over the past four centuries."—Shondaland

"Four Hundred Souls consists of eighty chronological chapters that bring to life the numerous and previously overlooked facets of slavery, segregation, resistance and survival. In these pages, dozens of extraordinary lives and personalities resurface from archives and are restored to their rightful place in the narrative of American history."—The Root
"An impeccable, epic, essential vision of American history as a whole and a testament to the resilience of Black people."—Kirkus Reviews (starred review)

"With a diverse range of up-and-coming scholars, activists, and writers exploring topics both familiar and obscure, this energetic collection stands apart from standard anthologies of African American history."—Publishers Weekly
"This seamless collection crackles with rage, beauty, bitter humor, and the indomitable will to survive."—Booklist (starred review)