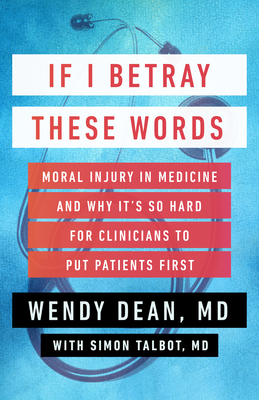 If I Betray These Words: Moral Injury in Medicine and Why It's So Hard for Clinicians to Put Patients First
Publication Date:
April 4th, 2023
The MIT Press Bookstore
1 on hand, as of Dec 8 10:45am
(BIOMD)
On Our Shelves Now
Description
An incredibly important and captivating book for patients, families, and clinicians detailing how we're all hurt by corporate medicine
"Wendy Dean diagnoses the dangerous state of our healthcare system, illustrating the thumbscrews applied to medical professionals by their corporate overlords… Required reading for all stakeholders in healthcare." — Danielle Ofri, MD, PhD, author of When We Do Harm: A Doctor Confronts Medical Error
Offering examples of how to make medicine better for the healers and those they serve, If I Betray These Words profiles clinicians across the country who are tough, resourceful, and resilient, but feel trapped between the patient-first values of their Hippocratic oath and the business imperatives of a broken healthcare system.
Doctors face real risks when they stand up for their patients and their oath; they may lose their license, their livelihood, and for some, even their lives.
There's a growing sense, referred to as moral injury, that doctors have their hands tied – they know what patients need but can't get it for them because of constraints imposed by healthcare systems run like big businesses.
Workforce distress in healthcare—moral injury—was a crisis long before the COVID-19 pandemic, but COVID highlighted the vulnerabilities in our healthcare systems and made it impossible to ignore the distress, with 1 in 5 American healthcare workers leaving the profession since 2020, and up to 47% of U.S. healthcare workers now planning to leave their positions by 2025.
If I Betray These Words confronts the threat and broken promises of moral injury – what it is; where it comes from; how it manifests; and who's fighting back against it. We need better healthcare—for patients and for the workforce. It's time to act.
Praise for If I Betray These Words: Moral Injury in Medicine and Why It's So Hard for Clinicians to Put Patients First
"If I Betray These Words" ably humanizes modern, troubled physicians and rightly recognizes an important cause of their suffering."
--The Wall Street Journal
"A fierce denunciation of American medicine in which physicians are the heroes—mostly… An expert bottoms-up examination of our diseased health care system."
--Kirkus Reviews (starred review)
"This is an important call to action."
--Booklist
"This book is great for anyone working with patients, from nurses and doctors to health care and hospital administrators. It puts a spotlight on the problem of moral injury and how to rectify it."
--Library Journal
"The book should be read not only by physicians, but also by other healthcare professionals and, perhaps more importantly, by people involved with the management of healthcare organizations."
--Journal of Pediatric Rehabilitation Medicine
"This is a great story of an adventurous and wide-ranging doctor dedicated to bringing the human into medicine. Having felt the whip of money and 'administrators,' in both large institutions and small hospitals, she and Simon Talbot moved away from calling doctors' difficulties 'burnout'  — thus blaming doctors — to 'moral injury' —like soldiers floundering under unjust orders. A brilliant, expansive book."
--Samuel Shem, MD, DPhil, Professor in Medicine at NYU Medical School, author of The House of God and Man's 4th Best Hospital
"A manifesto for our times! Wendy Dean diagnoses the dangerous state of our healthcare system, illustrating the thumbscrews applied to medical professionals by their corporate overlords. By making it impossible to do the right thing for patients, the profit-hungry system casually gouges the moral fiber of healthcare workers, threatening patient safety. Luckily, Dean lays out a path forward. Required reading for all stakeholders in healthcare."
--Danielle Ofri, MD, PhD, author of When We Do Harm: A Doctor Confronts Medical Error

"All good physicians embrace their role as 'Chief Story Teller,' explaining to patients and their families the meaning of symptoms, diagnostic tests and proposed treatments. Wendy Dean weaves together the stories of 13 healthcare clinicians who have grappled with moral injury resulting from the system in which they are forced to work, and also offers solutions. A brilliantly conceived and executed masterpiece."
--Thom Mayer, MD, Medical Director of the NFL Players Association

"I was viscerally moved by this book. Although written by and about the challenges facing physicians in the civilian healthcare system, I shared  many similarly exasperating experiences during my military medical career.  Wendy Dean opens the door for the layman to see how physically taxing and mentally draining the practice of medicine can be, while allowing physician readers to recognize themselves in the scenarios she depicts. Regardless of where you stand, you need to read this book. Trust me. I'm a doctor."
-- Joseph Caravalho, Jr., MD, Major General, US Army (Retired), and President and CEO of the Henry M. Jackson Foundation for the Advancement of Military Medicine
"Wendy Dean offers a stunning portrayal of the corrosive effects of valuing profits over people. Medicine is sick and the situation more dire than most realize, but Dean's examples of visionary leadership inspire hope for a healthier future. Written by the expert on moral injury in medicine, this book is a critical read for all in healthcare." 
--Lydia Dugdale, MD, author of The Lost Art of Dying: Reviving Forgotten Wisdom, and Director of the Center for Clinical Medical Ethics at Columbia University