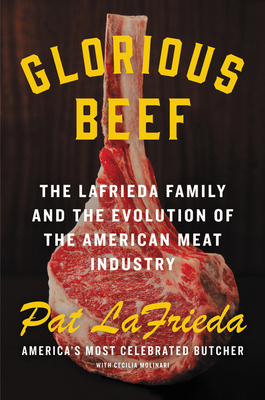 Glorious Beef: The LaFrieda Family and the Evolution of the American Meat Industry
Publication Date:
October 26th, 2021
The MIT Press Bookstore
2 on hand, as of Nov 30 10:32am
(GAST)
On Our Shelves Now
Description
An insightful and engaging insider's look at the history and business of the meat industry, from master butcher Pat LaFrieda 
"A full-throated celebration of red meat from one of the nation's major purveyors. . . . The true meat of his book is a study of how beef is brought from farm to table as well as an account of commercial success that deserves a place on any business school syllabus." -- Kirkus Reviews
It all began when Pat LaFrieda's great-grandfather Anthony LaFrieda decided to pack up and move his family from Italy to New York in search of a better life, setting up the family's first retail butcher shop in 1922 in Flatbush, Brooklyn. Almost one hundred years later, Pat LaFrieda, a fourth-generation butcher and third-generation meat purveyor, is at the helm of a family-run business that has been providing meat to customers for decades, through wars, the Great Depression, the tumultuous years when New York City was dubbed "Fear City," the fall of the Twin Towers, unprecedented hurricanes, and even a pandemic.
Most people don't know the amount of time, commitment, and extenuating work that goes into bringing them the piece of meat on their plate. What are the real implications of grass-fed beef on climate change? What is involved in humanely processing animals at harvesting facilities? Why is grading, labeling, and traceability essential for the consumer? And what's the beef with eating meat?
There are two sides to every story; however, in the beef industry's case, only one side seems to get most of the airtime. In Glorious Beef, LaFrieda shares his family's legacy and pulls back the curtain to reveal a behind-the-scenes view of each stage of the process involved in bringing beef from pasture to plate and the truths behind the industry's story of survival and constant evolution. 
Praise for Glorious Beef: The LaFrieda Family and the Evolution of the American Meat Industry
"A full-throated celebration of red meat from one of the nation's major purveyors. . . . The true meat of his book is a study of how beef is brought from farm to table as well as an account of commercial success that deserves a place on any business school syllabus."  — Kirkus Reviews
"The LaFriedas are to the high-end beef and butcher world what the Medicis were to the banking world of ancient Florence and the Ferraris are to F-1 racing—innovative, tactically brilliant, and always at the top of their game. Part memoir, part confessional, and part how-to manual, this lavish, entertaining volume is an inside look at this growing business by one of the great beef experts of our day." — Adam Platt, New York Magazine restaurant critic 
"Simply put, Pat LaFrieda has forgotten more about beef and meat industry than most people will ever know. Just the mention of his name attached to a restaurant's signature meat blend is regarded as a mark of superior quality. He is part of one of the most legendary families in the meat game, and in this book he shares the fruits of the knowledge he has gleaned from a lifetime of being right where the rubber meets the road and the knife meets the meat. Dig in and enjoy!" — Adam Richman, television host, producer, and author
"Glorious Beef is a stunning one-of-a-kind book. Pat LaFrieda tells it as it is with a passionate yet even-handed account and I was captivated by the remarkable detail, history, and storytelling. I could not put Glorious Beef down and have learned things I never knew through the eyes of America's greatest beef purveyor." — Geoffrey Zakarian
"I have been a fan girl of Pat Lafrieda's since my first job as a young cook in New York City. To know the man behind the meat makes me even prouder. This delightful journey through the LaFrieda family history is not only educational but inspirational. A must-read!!" — Anne Burrell, chef, author, and Food Network personality 
"Four generations of the LaFrieda family have been feeding America since before World War I and no one knows more about meat than my friend Pat LaFrieda. In this superbly written, all-encompassing book, Pat lifts the veil on the entire beef industry, sharing his deep treasure trove of wisdom about how beef is raised, distributed, butchered, and how it should be cooked. This is the story of beef written by a meat man who helped usher in the modern era of cooking and dining out. More importantly, this is a book about entrepreneurship, the human spirit, caring and loving others, and the saga of an American family, and one that we all can relate to."  — Andrew Zimmern, chef and author