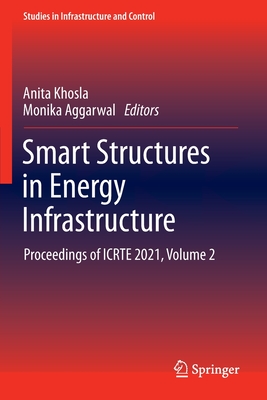 Smart Structures in Energy Infrastructure: Proceedings of Icrte 2021, Volume 2 (Studies in Infrastructure and Control)
Publication Date:
December 3rd, 2022
Usually Ships in 1 to 5 Days
Description
Chapter 1. ANN Model Based Performance Simulation of a Solar PV Operated Helical Rotor Water Pump.- Chapter 2. A Comparative Analysis of Neural Network Based Models for Forecasting of Solar Irradiation with Different Learning Algorithms.- Chapter 3. A review of Load Frequency Control of Hybrid Power System.- Chapter 4. Time Duration Prediction of Electrical Power Outages.- Chapter 5. Comparative THD Analysis of Multi-level Inverter using SPWM Scheme.- Chapter 6. Power Quality Improvement of Railway Traction System using D-STATCOM.- Chapter 7. Mitigation of Harmonics using Passive-Series Active-Hybrid Filter in 1-Φ and 3-Φ system Feeding Non-linear Load.- Chapter 8. Thermal Modelling of Solar Photovoltaic Panel using FEM.- Chapter 9. Selective Harmonic Elimination for Cascade Multilevel Inverter Using Genetic Algorithm.- Chapter 10. A Concept Design of a Futuristic Battery Management System for Submarines using IEEE802.3bt network.- Chapter 11. Technological Advancements for Reduced Charging Time of Electric Vehicle Batteries: A Review.- Chapter 12. Compact & Efficient way of LSEV Charging.- Chapter 13. Optimization of Closed Loop Controlled Charging Time of Li-Ion Battery using ANFIS.- Chapter 14. Electric Vehicle Reliability Assessment based on Fault-Tree Analysis.- Chapter 15. Design analysis of dimmer light for autonomous vehicles.