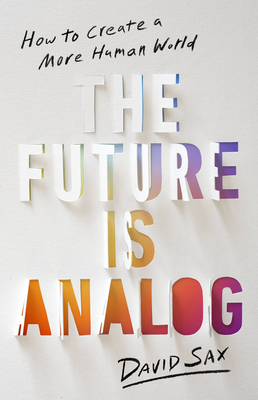 The Future Is Analog: How to Create a More Human World
Publication Date:
November 15th, 2022
The MIT Press Bookstore
1 on hand, as of Dec 8 10:45am
(BUSIN)
On Our Shelves Now
Description
Bestselling culture writer David Sax lays out the case against a false digital utopia—and for a more human future
In The Future Is Analog, David Sax points out that the onset of the pandemic instantly gave us the digital universe we'd spent so long anticipating. Instant communication, online shopping, virtual everything. 
It didn't take long to realize how awful it was to live in this promised future. We craved real experiences, relationships, and spaces and got back to real life as quickly and often as we could.
In chapters exploring work, school, religion, and more, this book asks pointed questions: Is our future inevitably digital? Can we reject the downsides of digital technology without rejecting change? Can we innovate not for the sake of productivity but for the good of our social and cultural lives? Can we build a future that serves us as humans, first and foremost?
This is a manifesto for a different kind of change. We can spend our creativity and money on building new gadgets—or we can spend them on new ways to be together and experience the world, to bake bread, and climb mountains. All we need is the clarity to choose which future we want.
Praise for The Future Is Analog: How to Create a More Human World
"[A]pproachable, witty… [a] deft, colorful discussion."—Kirkus
"[P]rovocative… This up-close look at the costs of digital convenience delivers."—Publishers Weekly, starred review
"David Sax convincingly argues that the dream of an effortless digital future is deeply flawed. If we learn anything lasting from the pandemic, it should be that a meaningful life requires messy, wonderful, analog connections with the world around us."—Cal Newport, New York Times–bestselling author of Digital Minimalism and Deep Work
"Please read this book (the paper version if possible) and discuss it with friends and colleagues (in person over a coffee if possible)."—A.J. Jacobs, bestselling author of The Year of Living Biblically and The Puzzler
"There is magic in live. There is magic in real. There is magic in analog. This book is a loud and much-needed back crack for our twisted techno-obsessed society."—Neil Pasricha, #1 bestselling author of author of The Happiness Equation and The Book of Awesome
"The Future Is Analog is a must-read book if you want to return to what really matters in life: authentic connections, conversations, and depth of character. My only wish is I could have submitted this quote in pencil."—Ari Wallach, author of Longpath
"Sax brilliantly investigated how we saw the future living online during the pandemic and were reminded of the ineffable beauty and humanity of being present without screens. The Future Is Analog is the perfect guide to help us stay focused on what matters in the blinding light of a technology-filled world."—Tiffany Shlain, Emmy-nominated filmmaker, founder the Webby Awards, and author of national bestseller 24/6
In The Future is Analog, David Sax paints a sage and intimate portrait of our digital present, unpacks the promises of what comes next, and reminds us of the physical, un-virtual beauty of living in the analog world. It's the book for right now.
 —Nathan Englander, author of What We Talk About When We Talk About Anne Frank and Kaddish.com
Considering our abuse of the natural world, more pandemics are on the way. But with or without virulent viruses, the epidemic of human loneliness is bound to grow. No vaccine will be available for that chronic affliction, but in his fine book, The Future is Analog, David Sax prescribes ongoing treatments designed to physically reunite humans within the wider family of nature.
 —Richard Louv, author of Last Child in the Woods and The Nature Principle
"With facts, humor, and relatability, The Future Is Analog is an insightful snapshot of society's current state. Even more important, it's a call for readers to examine what makes us human and to strive to build more of it into our daily lives."—Brand Outlaw
"[A] quirky and fascinating book… This is an entertaining book; Sax is no dour traditionalist… Sax's "analog" framing permits a whole cavalcade of social critiques to reside comfortably in the same book."—The Bulwark