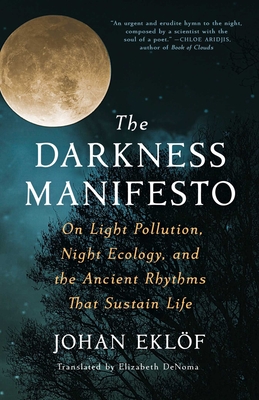 The Darkness Manifesto: On Light Pollution, Night Ecology, and the Ancient Rhythms that Sustain Life
Publication Date:
February 14th, 2023
The MIT Press Bookstore
1 on hand, as of Dec 8 10:45am
(NATUR)
On Our Shelves Now
Description
This timely and captivating look at the hidden impact of light pollution is "rich in revelation and insight…lyrical" (The Wall Street Journal) and urges us to cherish natural darkness for the sake of the environment, our own well-being, and all life on earth.
How much light is too much light? Satellite pictures show our planet as a brightly glowing orb, and in our era of constant illumination, light pollution has become a major issue. The world's flora and fauna have evolved to operate in the natural cycle of day and night. But in the last 150 years, we have extended our day—and in doing so have forced out the inhabitants of the night and disrupted the circadian rhythms necessary to sustain all living things, including ourselves.
In this "well-researched and surprisingly lyrical" (The New Statesman, UK) book, Swedish conservationist Johan Eklöf urges us to appreciate natural darkness, its creatures, and its unique benefits. He ponders the beauties of the night sky, traces the errant paths of light-drunk moths and the swift dives of keen-eyed owls, and shows us the bioluminescent creatures of the deepest oceans. As a devoted friend of the night, Eklöf reveals the startling domino effect of diminishing darkness: insects, dumbfounded by streetlamps, failing to reproduce; birds blinded and bewildered by artificial lights; and bats starving as they wait in vain for insects that only come out in the dark. For humans, light-induced sleep disturbances impact our hormones and weight, and can contribute to mental health problems like chronic stress and depression. The streetlamps, floodlights, and neon signs of cities are altering entire ecosystems, and scientists are only just beginning to understand their long-term effects. The light bulb—long the symbol of progress and development—needs to be turned off.
"Urgent…vivid…eye-opening" (Publishers Weekly), and ultimately encouraging, The Darkness Manifesto outlines simple steps that we can take to benefit ourselves and the planet. In order to ensure a bright future, we must embrace the darkness.
Praise for The Darkness Manifesto: On Light Pollution, Night Ecology, and the Ancient Rhythms that Sustain Life
"A wide-ranging exploration of humanity's troubled relationship with darkness, and the damaging effects of our drive to overcome it." —The New York Times
"Though the book is written as a sort of Silent Spring manifesto against the ecological devastations of light pollution, its considerable charm depends on the encyclopedic intensity with which he evokes the hidden creatures of the night. . . . Eklöf's book is made most memorable by the sometimes wild eccentricities of the life-forms it chronicles." —Adam Gopnik, The New Yorker
"Though Mr. Eklöf loves both bats and darkness, his sensibility is more good-natured than gothic, rendering night not as an ordeal but an odyssey, rich in revelation and insight . . . lyrical." —Wall Street Journal
"As a Swedish conservationist, Johan Eklöf urges us to think of light pollution as more than a nuisance that obscures our starry skies. . . . well-researched . . . the book is a reflective reminder that our control of the world is as delicate as the smallest of species affected by it." —Scientific American
"A scintillating read by a conservationist of true literary flair, who has spent long hours tuning his attention to twilight and nocturnal life." —Rebecca Giggs, award-winning author of Fathoms
"A captivating, poetic call for greater awareness of the natural cycles of the world." —Kirkus Reviews
"Well-researched and surprisingly lyrical. . . . a powerful contribution to our understanding of the harm we're causing, and a clarion call for change: unlike many of the complex issues facing the planet, protecting the darkness is truly within our grasp." —New Statesman (UK)
"[An] eye-opening treatise on light pollution. . . . Urgent and vivid, this account shines." —Publishers Weekly
"Poetic and philosophical . . . intimate and expansive." —Daily Telegraph (UK)
"An urgent and erudite hymn to the night, composed by a scientist with the soul of a poet." —Chloe Aridjis, author of Book of Clouds
"A critically important must-read for all who have an interest in the health of our planet." —Russell Foster, Director of the Sleep and Circadian Neuroscience Institute and Head of the Nuffield Laboratory of Ophthalmology at the University of Oxford