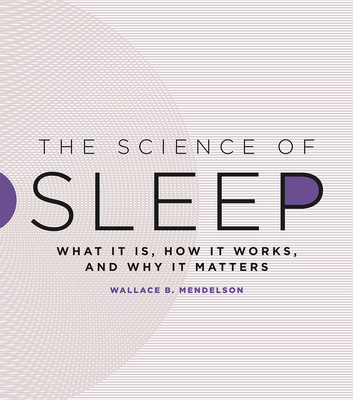 The Science of Sleep: What It Is, How It Works, and Why It Matters
Publication Date:
October 6th, 2017
Publisher:
University of Chicago Press
The MIT Press Bookstore
1 on hand, as of Dec 8 10:45am
(PSYCH)
On Our Shelves Now
Description
We often hear that humans spend one third of their lives sleeping—and most of us would up that fraction if we could. Whether we're curling up for a brief lunchtime catnap, catching a doze on a sunny afternoon, or clocking our solid eight hours at night, sleeping is normally a reliable way to rest our heads and recharge our minds. And our bodies demand it: without sufficient sleep, we experience changes in mood, memory loss, and difficulty concentrating. Symptoms of sleep deprivation can be severe, and we know that sleep is essential for restoring and rejuvenating muscles, tissue, and energy. And yet, although science is making remarkable inroads into the workings and functions of sleep, many aspects still remain a mystery.
 
In The Science of Sleep, sleep expert Wallace B. Mendelson explains the elements of human sleep states and explores the variety of sleep disorders afflicting thousands of people worldwide. Mendelson lays out the various treatments that are available today and provides a helpful guide for one of life's most important activities. By offering the first scientific yet accessible account of sleep science, Mendelson allows readers to assess their personal relationships with sleep and craft their own individual approaches to a comfortable and effective night's rest.
 
Addressing one of the major public health issues of the day with cutting-edge research and empathetic understanding, The Science of Sleep is the definitive illustrated reference guide to sleep science. 
Praise for The Science of Sleep: What It Is, How It Works, and Why It Matters
"Mendelson uses engaging material and employs interesting and vivid examples to explore topics such as the fundamentals of human sleep, differences in animal sleep patterns, and the basics of circadian rhythms, sleep disorders, and the effects of sleep deprivation. By outlining these pillars of sleep science, Mendelson successfully provides any reader—even those with little scientific background—with a sufficient breadth of knowledge regarding the current scientific understanding of sleep and its implications."
— Sleep
"In this attractive, artistic, informative, engaging, and lucidly written book, Mendelson provides an excellent introduction to sleep science and sleep medicine. He very effectively communicates with personal insights and perspectives not possible in published meta-analyses, regulatory prescribing information, and formal clinical guidelines. The Science of Sleep would be a very good choice as an introductory textbook on sleep."
— Sleep and Vigilance
"Mendelson presents an unusually compelling exploration of the study of sleep. Several features of this work contribute to its educational value. Mendelson's 40-odd years of engagement in sleep research and multiple publications establish his credentials. The text covers a comprehensive range of sleep topics, including the nature of sleep, sleep in humans contrasted with sleep in animals, the effects of sleep deprivation, hormones and sleep, and other topics. Readers get a stepwise, remarkably clear picture of experts' current understanding of the science of sleep along with physiological and psychological aspects and consequent social behaviors. The prose is of such high quality that it easily serves as a prime example of outstanding scientific writing, worthy of study by science graduate students. Another feature that contributes to the book's appeal, though not related to its scientific value, is its elegant design: decorative graphics grace the book's cover, text, figures, and tables. This volume, impressive on a coffee table, is for scientists and non-scientists alike. Highly recommended."
— CHOICE