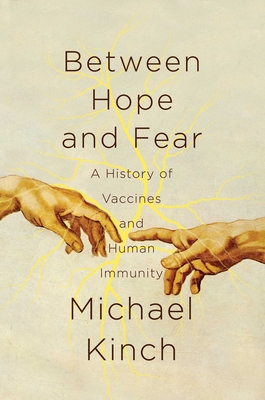 Between Hope and Fear
Publication Date:
November 12th, 2019
The MIT Press Bookstore
1 on hand, as of Nov 30 10:32am
(BIOMD)
On Our Shelves Now
Description
A smart and compelling examination of the science of immunity, the public policy implications of vaccine denial, and the real-world outcomes of failing to vaccinate.
If you have a child in school, you may have heard stories of long-dormant diseases suddenly reappearing—cases of measles, mumps, rubella, and whooping cough cropping up everywhere from elementary schools to Ivy League universities because a select group of parents refuse to vaccinate their children. Between Hope and Fear tells the remarkable story of vaccine-preventable infectious diseases and their social and political implications. While detailing the history of vaccine invention, Kinch reveals the ominous reality that our victories against vaccine-preventable diseases are not permanent—and could easily be undone. In the tradition of John Barry's The Great Influenza and Siddhartha Mukherjee's The Emperor of All Maladies, Between Hope and Fear relates the remarkable intersection of science, technology, and disease that has helped eradicate many of the deadliest plagues known to man.
Praise for Between Hope and Fear
An important book. As Michael Kinch tells us in Between Hope and Fear, vaccinations have saved millions, possibly billions, of lives. Along with antisepsis and anesthesia, they rank as one of the greatest achievements of scientific medicine. It is therefore deeply disturbing that in recent decades a significant minority of people in the world's wealthier countries has become opposed to them. If even a small number of parents decide not to have their child vaccinated because of an alleged (and usually spurious) risk from the vaccine, they are putting enormous numbers of children at risk of contracting the disease the vaccine protects against…. Kinch has done early scientists a great service by recounting their contributions. There are some fascinating episodes about the discovery and use of bacteriophages (viruses that attack bacteria) and the way in which they might become important again as antibiotic resistance is increasingly a problem.
— Henry Marsh
The immune system is notoriously complex, and Mr. Kinch offers a masterly exposition of the evolution and operation of our defense against disease-causing microorganisms. The author skillfully weaves historical figures into his narrative, with a good eye for largely forgotten players. Mr. Kinch's volume ought to be read by parents and policy makers alike, and its message heeded by all.
The story of smallpox—its malignity and humanity's triumph over it—is told in Michael Kinch's Between Hope and Fear. Kinch is profoundly alarmed by our collective amnesia.
A terrific book—insightful, authoritative, and endlessly absorbing.
— Bill Bryson, New York Times bestselling author of A Walk in the Woods and A Short History of Nearly Everything
Kinch's argument in favor of reason and science over fear and charlatanism is cogent and well-researched, presenting a large-scale chronological narrative of disease and prevention.
A comprehensive history of the science of vaccination. Readers of this admirable account will thrill to stories of the conquest of historical plagues and research into preventing today's deadly infections. A riveting chronicle of one of the greatest accomplishments in the history of medical science.
An interdisciplinary cornucopia of meticulously researched information on the intersection of history, disease, and vaccine invention. Recommended for scientists and medical professionals but also for readers curious about the history of disease and our efforts at understanding and prevention.
A cogent and comprehensive view of where the drug industry is today and how it got there.
Provides a brilliant, revealing, commonsense, and well-written answer to a timely and essential question.
— Dr. Richard N. Foster, Chair, Presidents' Circle, National Academies of Science, Engineering, and Medicine
Well explained and illustrated with useful anecdotes.