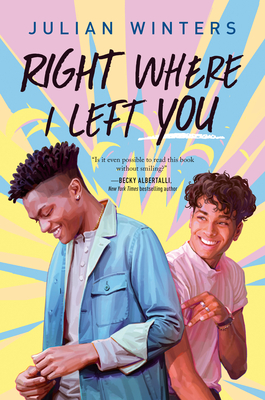 Right Where I Left You
Publication Date:
January 10th, 2023
Publisher:
Viking Books for Young Readers
The MIT Press Bookstore
1 on hand, as of Sep 26 1:27pm
(JR:YA)
On Our Shelves Now
Description
"Smart, swoony, and pitch-perfect, Right Where I Left You is ideal for every reader who's just as likely to geek out over a new issue of Superman: Son of Kal-El as they are the quintessential meet-cute."—LEAH JOHNSON, bestselling author of You Should See Me in a Crown and Rise to the Sun
School's out, senior year is over, and Isaac Martin is ready to kick off summer. His last before heading off to college in the fall where he won't have his best friend, Diego. Where—despite his social anxiety—he'll be left to make friends on his own. Knowing his time with Diego is limited, Isaac enacts a foolproof plan: snatch up a pair of badges for the epic comic convention, Legends Con, and attend his first ever Teen Pride. Just him and Diego. The way it should be. But when an unexpected run-in with Davi—Isaac's old crush—distracts him the day tickets go on sale, suddenly he's two badges short of a perfect summer. Even worse, now he's left making it up to Diego by hanging with him and his gamer buddies. Decidedly NOT part of the original plan. It's not all bad, though. Some of Diego's friends turn out to be pretty cool, and when things with Davi start heating up, Isaac is almost able to forget about his Legends Con blunder. Almost. Because then Diego finds out what really happened that day with Davi, and their friendship lands on thin ice. Isaac assumes he's upset about missing the convention, but could Diego have other reasons for avoiding Isaac?
Praise for Right Where I Left You
Praise for Right Where I Left You
*"[A] bighearted friends-to-lovers romance . . . Isaac and Diego's intimate connection, facilitated by healthy communication and individual vulnerability, is one to be cherished. Employing a winsome queer and racially diverse cast, compassionate prose, and a joyful tone, Winters skillfully explores myriad walks of LGBTQ life."--Publishers Weekly, starred review
*"An enthusiastically queer story of friendship, family, and romance and the ways they empower one another."--Kirkus Reviews, starred review
*"Winters has written a classic gay romance, which is enhanced by the all-too-rare fact that both heroes pursuing a happy ending are people of color. This is one summer romance that won't go out of season."--Booklist, starred review
"Smart, swoony, and pitch-perfect, Right Where I Left You is ideal for every reader who's just as likely to geek out over a new issue of Superman: Son of Kal-El as they are the quintessential meet-cute."—LEAH JOHNSON, bestselling author of You Should See Me in a Crown and Rise to the Sun
Right Where I Left You is a swoony, nerdy delight, bursting with magic and heart that light up every page. Julian Winters is my hero!"—ADIB KHORRAM, award-winning author of Darius the Great Is Not Okay
"Petition to have Julian Winters rewrite our collective reality with his signature openhearted sincerity. Is it even possible to read this book without smiling?"—BECKY ALBERTALLI, New York Times bestselling author
"A charming, funny, and insightful story about how sometimes what you're looking for was right there all along—as long as you can learn to admit it to yourself. Right Where I Left You is Julian Winters at his wise, heart-burstingly joyous best."—KELLY LOY GILBERT, author of Stonewall Honor book Picture Us in the Light
"An achingly heartfelt and unabashedly nerdy ode to adolescence . . . Although the central romance is delightful and swoony on its own, Right Where I Left You is not just one love story, but many. It's also about the love of friends and family. It's about loving stories and the communities that form around them. And it's about what it means for those stories to love you back and how the right representation can help you create your own happy ending."--BookPage