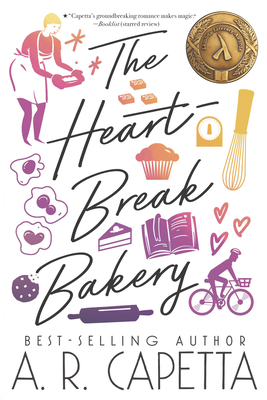 The Heartbreak Bakery
Publication Date:
May 9th, 2023
The MIT Press Bookstore
1 on hand, as of Nov 30 10:32am
(JR:YA)
On Our Shelves Now
Description
A Lambda Literary Award Winner
Teenage baker Syd sends ripples of heartbreak through Austin's queer community when a batch of post-being-dumped brownies turns out to be magical—and makes everyone who eats them break up.
"What's done is done."
Unless, of course, it was done by my brownies. Then it's getting undone.
Syd (no pronouns, please) has always dealt with big, hard-to-talk-about things by baking. Being dumped is no different, except now Syd is baking at the Proud Muffin, a queer bakery and community space in Austin. And everyone who eats Syd's breakup brownies . . . breaks up. Even Vin and Alec, who own the Proud Muffin. And their breakup might take the bakery down with it. Being dumped is one thing; causing ripples of queer heartbreak through the community is another. But the cute bike delivery person, Harley (he or they, check the pronoun pin, it's probably on the messenger bag), believes Syd about the magic baking. And Harley believes Syd's magical baking can fix things, too—one recipe at a time.
Praise for The Heartbreak Bakery
Capetta's groundbreaking romance makes magic by centering queer and trans characters and relationships. . . . LGBTQ+ characters are allowed to experience joy, fall in love, and break up. Between all that, a groundbreaking agender protagonist, a love interest who uses both he/him and they/them pronouns, and a cast of complex queer and trans characters, this book proves a necessary addition to the young adult romance genre. Every scene involving magic baking is pure perfection, and the romance is as mouthwatering as Syd's recipes, all of which will make readers want to pull out a bowl, a baking sheet, and a sprinkle of their own magic.
—Booklist (starred review)
A.R. Capetta describes both baking and the excitement of first love in luscious, sensuous detail. . . . Syd, who is agender, is an expertly constructed protagonist and a notable step forward in representing the full spectrum of gender identities in YA fiction. Syd's earnest musings about gender, bodies, performance and identity are likely to resonate deeply with teens who've shared those thoughts and experiences.
—BookPage (starred review)
LGBTQ+ characters take center stage in this work, led by agender narrator Syd (who does not care for pronouns) and demisexual Harley. . . While outright bigotry is not shown, Syd's life demonstrates the difficulties of having to explain one's orientation and gender and the burden of feeling unheard. . . . This sweet story shows that relationships don't follow a recipe.
—Kirkus Reviews
Capetta's (The Storm of Life) recipe for the story involves equal parts romantic comedy, heartfelt explorations of queer identity, and mouthwatering descriptions of baked goods, as well as interstitial recipes for treats such as Breakup Brownies and Very Sorry Cake. . . a tasty romance with subtle hints of culinary magic.
—Publishers Weekly
An irresistible story of love and found family. . . We don't recommend reading it if you are even the slightest bit hungry.
—BookPage
The best books come with a sprinkling of magic and a whole lot of heart baked in, which is precisely the case with this new A. R. Capetta novel.
—Buzzfeed
This sweet-as-sugar speculative romance about love, identity, and the pursuit of happiness stars agender (a first for traditionally published mainstream YA fiction) baker Syd, who's staring down the breakup of a four-year relationship and feeling a lot of feelings.
—Buzzfeed
Few books made me feel as truly seen as The Heartbreak Bakery by A.R. Capetta did. Syd's journey to figure out what pronouns fit, if any, and Harley's ever-shifting pronouns reflected through what pronoun pin they're wearing. The way A.R. explores gender and queerness and the intersections therein. How communities and found families can be just as important, or even more so, as the family you were born into. This is a YA fantasy novel I'll be thinking about for a long time to come.
—Tor.com
This cozy magical realist story is a delightful love letter to queer love and community.
—Autostraddle