Discounted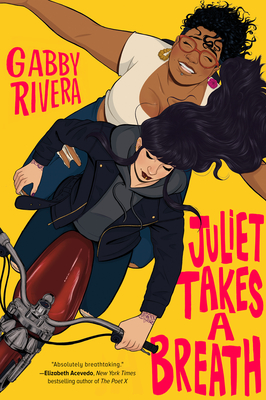 Juliet Takes a Breath
Previous price:

$11.99
Current price:

$10.99
Publication Date:
May 11th, 2021
The MIT Press Bookstore
6 on hand, as of Sep 26 1:27pm
(MKDN)
On Our Shelves Now
Thank the goddesses that Gabby Rivera has written a novel! Juliet Takes a Breath introduces Juliet Milagros Palante, a Puerto Rican baby dyke from the Bronx, as she dives into the coming out process. Full of the complexities of what it means to be 19, how to navigate the modern language of sexual identity, who gets to claim the feminist label, and so much more, this is the book to read for every young person with a question about their sexual or racial identity or who just wants to think about their place in today's world.
Fall 2019 Kids Indie Next List
Description
A People magazine Best Book of Fall 2019
An Amazon Best Young Adult Book of 2019
"F***ing outstanding."--Roxane Gay, New York Times bestselling author
Juliet Milagros Palante is a self-proclaimed closeted Puerto Rican baby dyke from the Bronx. Only, she's not so closeted anymore. Not after coming out to her family the night before flying to Portland, Oregon, to intern with her favorite feminist writer--what's sure to be a life-changing experience. And when Juliet's coming out crashes and burns, she's not sure her mom will ever speak to her again.
But Juliet has a plan--sort of. Her internship with legendary author Harlowe Brisbane, the ultimate authority on feminism, women's bodies, and other gay-sounding stuff, is sure to help her figure out this whole "Puerto Rican lesbian" thing. Except Harlowe's white. And not from the Bronx. And she definitely doesn't have all the answers . . .
In a summer bursting with queer brown dance parties, a sexy fling with a motorcycling librarian, and intense explorations of race and identity, Juliet learns what it means to come out--to the world, to her family, to herself.
Praise for Juliet Takes a Breath
People magazine Best Book of Fall 2019
Amazon Best Young Adult Book 
New Jersey Garden State Teen Book Award nominee
"Dazzling, funny as hell, poignant, all the things."—Roxane Gay, New York Times bestselling author of Hunger: A Memoir of (My) Body
"Juliet Takes a Breath is absolutely breathtaking. This is the homegirl I've always wanted to see in literature, made flesh by Rivera's pen."—Elizabeth Acevedo, National Book Award winner and New York Times bestselling author of The Poet X
"Raw. Powerful. Honest. Juliet Takes a Breath is a luminous journey of self-discovery. Through Juliet's awakening, Rivera gently challenges us to step out of the shadows and into the light, and reminds us that successful rebellion begins with loving yourself in all your infinite variety."—Samira Ahmed, New York Times best­selling author of Love, Hate & Other Filters and Internment
"Rivera captures both the disappointments and the possibilities that come with realizing that your life's solution cannot be figured out by someone else."—The New York Times Book Review
 
* "Reflects early adult life . . . in all its messy, confusing splendor."—Publishers Weekly, starred review
 
"A whirlwind coming-of-age story that leaves one breathless."—Kirkus Reviews
"This humorous and heartbreaking summer coming-of-age tale is reminiscent of Isabel Quintero's 2015 Morris Award winner Gabi, a Girl in Pieces. . . . A powerful novel."—School Library Journal
 
"The kind of book that gets the bitter­sweet pain and longing of growing up exactly right."—Lambda Literary
"Gabby Rivera's genius lies in her ability to make you weep and laugh in the same paragraph. Juliet Takes a Breath is powerful AF."—Zoraida Cordova, author of Labyrinth Lost and Bruja Born

"Vivid, loving, sexy, true, and exuberantly alive. Gabby Rivera is the voice that YA has long needed and Juliet Takes a Breath is a breathtaking novel that speaks to every young woman in search of her authentic self."—Malinda Lo, author of the William C. Morris Award finalist Ash
"This book is a fist-pumping intersectional feminist power anthem. Gabby Rivera's voice is a force—moving, alive, and bursting with feelings. Reading this book took me through a gamut of emotions—at times I cried with joy, at others I was forced to confront my own unconscious biases. Juliet Takes a Breath is a startling story full of powerful ideas about sexual, racial, and political identity. It will stay with you."—Britta Lundin, author of Ship It

"Juliet Takes a Breath is the coming-of-­age novel I desperately needed as a queer Latinx teen. Juliet's heart and soul leaps off the page as she takes readers through her journey from the Bronx to Portland. Her story of self-discovery is timely, vibrant, and illuminating, and I know it's going to inspire queer teens to be their authentic selves."—Mark Oshiro, author of the Schneider Book Award winner Anger Is a Gift
"Even if Holden Caulfield was born in the Bronx in the 1980s, he could never be this awesome."—Inga Muscio, author of Rose: Love in Violent Times