Discounted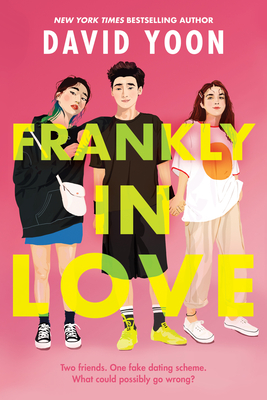 Frankly in Love
Previous price:

$12.99
Current price:

$10.99
Publication Date:
September 1st, 2020
Publisher:
G.P. Putnam's Sons Books for Young Readers
The MIT Press Bookstore
2 on hand, as of Dec 5 4:07pm
(JR:YA)
On Our Shelves Now
Frankly in Love is a breathtaking, sit-on-the-floor-sobbing, smile-till-your-face-hurts whirlwind of a novel. David Yoon's writing is extraordinary: carefree and playful, yet deep and resonating. Embedded throughout are gems that encapsulate the humanity of being young, being in love, and discovering who you are and who you aren't. Not only is this a compelling and engrossing story of love and growing up, it powerfully hits many notes regarding race, family, and biases. I know this will be a book that will continue to resonate with me for a long time, and I can't wait to share it so that it will stick in other readers' hearts, too.
Fall 2019 Kids Indie Next List
Frankly in Love is a revelatory, hilarious, and heartbreaking coming-of-age novel that I would recommend to absolutely anyone. Writing with clarity and wit, Yoon has crafted an emotional, entertaining, and accessible read that explores the complex threads of identity, family, friendship, and first love with care. Yoon is a masterful debut novelist, and I was enthralled from the very first page.
Winter 2020 Reading Group Indie Next List
Description
An Instant New York Times Bestseller and #1 Indie Bestseller!
A William C. Morris YA Debut Award Finalist
 
An Asian Pacific American Librarians Association Honor Book
Two friends. One fake dating scheme. What could possibly go wrong?
Frank Li has two names. There's Frank Li, his American name. Then there's Sung-Min Li, his Korean name. No one uses his Korean name, not even his parents. Frank barely speaks any Korean. He was born and raised in Southern California.
Even so, his parents still expect him to end up with a nice Korean girl--which is a problem, since Frank is finally dating the girl of his dreams: Brit Means. Brit, who is funny and nerdy just like him. Brit, who makes him laugh like no one else. Brit . . . who is white.
As Frank falls in love for the very first time, he's forced to confront the fact that while his parents sacrificed everything to raise him in the land of opportunity, their traditional expectations don't leave a lot of room for him to be a regular American teen. Desperate to be with Brit without his parents finding out, Frank turns to family friend Joy Song, who is in a similar bind. Together, they come up with a plan to help each other and keep their parents off their backs. Frank thinks he's found the solution to all his problems, but when life throws him a curveball, he's left wondering whether he ever really knew anything about love—or himself—at all.
In this moving debut novel—featuring striking blue stained edges and beautiful original endpaper art by the author—David Yoon takes on the question of who am I? with a result that is humorous, heartfelt, and ultimately unforgettable.
Praise for Frankly in Love
Praise for Frankly in Love:
An Instant New York Times Bestseller and #1 Indie Bestseller!
One of TIME Magazine's 100 Best YA Books of All Time
A William C. Morris YA Debut Award Finalist
An Asian/Pacific American Librarians Association Honor Book
An Amazon Best Book of the Year
A Kirkus Reviews Best Young Adult Book of the Year
★★★★★ Five Starred Reviews
A Junior Library Guild Selection
A Cosmopolitan 100 Best YA Books Everyone Should Read, Regardless Of Their Age
An Indies Introduce Title

"Extraordinary . . . a beautifully layered novel about first love, tribalism and that brief, magical period when kids have one foot in high school, one foot out the door. . . Yoon explores themes of racism, forgiveness and acceptance without getting earnest or preachy or letting anyone off the hook. And there's a universality to the story that cuts across cultures." —New York Times

"With echoes of John Green and To All the Boys I've Loved Before, it's poised to be the biggest YA debut of the year." —Entertainment Weekly
"Yoon's fresh and nuanced approach to Frank's struggle to navigate cultural tensions amplifies both the vulnerabilities and the strengths that can come with being a child of immigrants. . . Yoon underscores the value of honoring both who you are and where you come from."—TIME
"Yoon's stellar debut expertly and authentically tackles racism, privilege, and characters who are trying to navigate their Korean-American identity." —BuzzFeed
"David Yoon packs all manner of ethnic, class, and family dynamics into the funny, profane and poignant pages of Frankly in Love." —Wall Street Journal
"Touching on issues of race, identity, and first love, Frankly in Love is the charming, funny, romantic young adult crossover novel that both adults and teens will enjoy in equal measure." —PopSugar

"Yoon examines love in the context of cultural identity, expertly tackling sensitive issues with nuance and a bit of humor." —Shelf Awareness
"A hard-hitting and intersectional look at all the joys and heartbreaks of coming of age." —Character Media
"Yoon makes insightful points in a frank and engaging way that will compel readers to at least think about the complicated issues surrounding race in America." —International Examiner
★ "Completely unique. Frank is a wonderfully self-aware protagonist with a compelling voice…. [A] beautifully written exploration of family, identity, and self-discovery." —Booklist, starred review
★ "With its smart, self-analyzing characters, sigh-inducing love story, and witty dialogue, this debut effort should happily occupy the shelf beside books by John Green, Rainbow Rowell, and Jenny Han. . . Readers will frankly fall in love with this hype-worthy, engaging addition to own-voices narratives that simultaneously stimulates both heart and head." —The Bulletin of the Center for Children's Books, starred review
★ "[A] sparkling debut. . . This is an outstanding novel where the emotions are deeply felt but honestly earned. The characters are complex and nuanced, and all are on their own authentic journeys. The highlight of the book is Frank's voice—he is a sharp observer who is funny, insecure, and deeply conflicted. . . Full of keen observations about love, family, and race with a winning narrator." —School Library Journal, starred review
★ "Yoon never settles for stereotypes, instead giving his well-defined characters a diversity of experience, identity, sexuality, and ambition. Told in youthful-sounding prose, Frank's journey reaches beyond Korean-American identity and touches on the common experiences of many children of immigrants, including negotiating language barriers, tradition, and other aspects of what it means to be a 'hyphenated' American." —Publishers Weekly, starred review
★ "Spectacular debut. . . Yoon's light hand with dialogue and deft use of illustrative anecdotes produce a story that illuminates weighty issues by putting a compassionate human face on struggles both universal and particular to certain identities. . . A deeply moving account of love in its many forms." —Kirkus Reviews, starred review
"An outstanding coming-of-age novel about identity, familial obligations, and the power of empathy." —VOYA
"Pure romantic comedy . . . Yoon writes in a lightly funny, self-deprecating, accessible voice; one that sounds like a contemporary teen and reveals a deep understanding of bicultural complexities. As the novel faces issues of race and racism, culture, friendship, relationships, and family, Yoon encourages readers to delve into issues of what it means to belong—and who in the end we would like to belong to, and with." —The Horn Book Magazine
"I loved, loved, LOVED this book, which miraculously manages to be a love story, a treatise on racism, a peek into adolescence, and a welcome to Korean-American culture, all at once. Frankly, Frank Li is a character you need to meet." —Jodi Picoult, #1 New York Times bestselling author of Small Great Things and A Spark of Light
"I fell fast for David Yoon's masterful debut that's big-hearted, honest, hilarious, and achingly romantic. I smiled, I laughed, I cried, and I closed this book wiser. Get ready to fall in love with Frank, world!" —Adam Silvera, New York Times bestselling author of They Both Die at the End
"Frankly in Love shines with an incredible voice and a searing, honest, and deeply human story about what it means to love someone. David Yoon isn't afraid to confront every angle, both the beautiful and the ugly, but he tackles it all with great care. This is a classic in the making." —Marie Lu, #1 New York Times bestselling author of Warcross
"In the tender and funny Frankly in Love, David Yoon gives us some of the truest and most lovable characters I've read in a long time. This book is pure joy." —Deb Caletti, Printz Honor recipient for A Heart in a Body in the World and National Book Award finalist for Honey, Baby, Sweetheart
"This #OwnVoices novel tackles familial issues, being the child of immigrant parents, and what it means to make a name for yourself despite having an ocean of expectations weighing down on your shoulders." —BookRiot