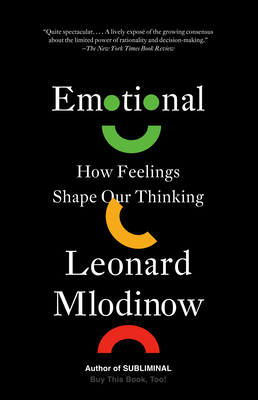 Emotional: How Feelings Shape Our Thinking
Publication Date:
February 14th, 2023
The MIT Press Bookstore
1 on hand, as of Sep 21 10:34am
(COGSC)
On Our Shelves Now
Description
We've all been told that thinking rationally is the key to success. But at the cutting edge of science, researchers are discovering that feeling is every bit as important as thinking in this "lively exposé of the growing consensus about the limited power of rationality and decision-making" (The New York Times Book Review).
You make hundreds of decisions every day, from what to eat for breakfast to how you should invest, and not one of those decisions would be possible without emotion. It has long been said that thinking and feeling are separate and opposing forces in our behavior. But as Leonard Mlodinow, the best-selling author of Subliminal, tells us, extraordinary advances in psychology and neuroscience have proven that emotions are as critical to our well-being as thinking.
 
How can you connect better with others? How can you make sense of your frustration, fear, and anxiety? What can you do to live a happier life? The answers lie in understanding your emotions. Journeying from the labs of pioneering scientists to real-world scenarios that have flirted with disaster, Mlodinow shows us how our emotions can help, why they sometimes hurt, and what we can learn in both instances.
 
Using deep insights into our evolution and biology, Mlodinow gives us the tools to understand our emotions better and to maximize their benefits. Told with his characteristic clarity and fascinating stories, Emotional explores the new science of feelings and offers us an essential guide to making the most of one of nature's greatest gifts.
Praise for Emotional: How Feelings Shape Our Thinking
"Those interested in understanding how feelings unconsciously steer thought ... are in for a stimulating read. Mlodinow handles this topic astutely with compelling examples and attention to the latest research, which is quite spectacular. . . . A lively exposé of the growing consensus about the limited power of rationality and decision-making."
—The New York Times Book Review
"Leonard Mlodinow ... offers a crash course, one that feels less like cramming than like a colorful tour of the behavior of humans—and the rest of the animal kingdom. Most of this smart, trim volume is about the science of emotion rather than how to use it, but he doesn't miss the opportunity to dole out advice and provide opportunities for self-reflection. . . . Not only astounding but touching."
—The Wall Street Journal
"Compelling. . . . This exploration of the interplay of emotion and thought is fascinating. . . . Emotional shows that rather than being counterproductive, emotions enrich our lives."
—Financial Times
"Synthesizing hard research, lively personal anecdotes, and input from psychologists and neuroscientists, Mlodinow tackles complex topics in a reader-friendly fashion to create a narrative that's wonderfully accessible. Understanding our emotions is a crucial step in the journey towards personal growth, and Mlodinow's remarkable book will put readers on the right track."
—BookPage
"[A] moving deep dive into the role of feelings in everyday life. . . . Mlodinow successfully shows how emotions can be assessed, regulated, and controlled, and powerfully concludes that understanding them is a lifelong project that's 'not just a science but an art.' This is a must-read for fans of Daniel Kahneman."
—Publishers Weekly (starred)
"Noted physicist and science writer Mlodinow brings an up-to-date view of the neuroscience surrounding emotions. . . . Reveals little-known facets of our worried, weary minds." —Kirkus Reviews
"Emotional is a captivating exploration of the science of emotions. Beautifully written and full of cutting-edge research, it is a crucial reminder of the power feelings have in our thinking."
—Charles Duhigg, author of The Power of Habit and Smarter Faster Better
"An absorbing deep dive into the new science of emotions that offers shrewd insights into the relationship between thinking and emotion. Mlodinow brings this important subject to life in a fascinating and informative way."
—Susan David, best-selling author of Emotional Agility
"Mlodinow—a gifted science writer—has produced another gem. Emotional is a captivating narrative that plunges you straight into the heart of a major scientific drama—the more than a century-old battle over the nature of emotions. No matter which side you find yourself on, you will relish this adventure to the front lines of scientific discovery."
—Lisa Feldman Barrett, PhD., University Distinguished Professor, Northeastern University and author of How Emotions Are Made: The Secret Life of the Brain and Seven and a Half Lessons About the Brain
"Both a brilliant scholar and a great writer, Leonard Mlodinow guides us through the fascinating science of what we feel, and why - and what we can do about it. I learned a lot from this wonderful book: a masterpiece of clarity, helpfulness, and heart."
—Rick Hanson, Ph.D., author of Buddha's Brain: The Practical Neuroscience of Happiness, Love, and Wisdom