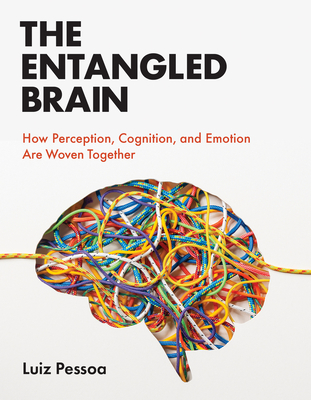 The Entangled Brain: How Perception, Cognition, and Emotion Are Woven Together
Publication Date:
November 15th, 2022
The MIT Press Bookstore
4 on hand, as of Nov 30 10:32am
(COGSC)
On Our Shelves Now
Description
A new vision of the brain as a fully integrated, networked organ.
Popular neuroscience accounts often focus on specific mind-brain aspects like addiction, cognition, or memory, but The Entangled Brain tackles a much bigger question: What kind of object is the brain? Neuroscientist Luiz Pessoa describes the brain as a highly networked, interconnected system that cannot be neatly decomposed into a set of independent parts. One can't point to the brain and say, "This is where emotion happens" (or any other mental faculty). Pessoa argues that only by understanding how large-scale neural circuits combine multiple and diverse signals can we truly appreciate how the brain supports the mind.
Presenting the brain as an integrated organ and drawing on neuroscience, computation, mathematics, systems theory, and evolution, The Entangled Brain explains how brain functions result from cross-cutting brain processing, not the function of segregated areas. Parts of the brain work in a coordinated fashion across large-scale distributed networks in which disparate parts of the cortex and the subcortex work simultaneously to bring about behaviors. Pessoa intuitively explains the concepts needed to formalize this idea of the brain as a complex system and how to unleash powerful understandings built with "collective computations."
Praise for The Entangled Brain: How Perception, Cognition, and Emotion Are Woven Together
"Luiz Pessoa's The Entangled Brain should be welcomed as an equally informed and bold endeavor. . . Thanks to its engaging style, Pessoa's book is ultimately aimed at all readers who are interested in how the brain really works."
—Cognitive Neuropsychiatry
"The Entangled Brain is part survey, part manifesto. It provides an interesting and valuable overview of recent research on emotion, learning, extinction learning, the evolution of the human brain, and other phenomena, interspersed with pleas for a different approach to studying the mind and brain…Pessoa's guiding theme is easily stated: neuroscience has been dominated by a view that the brain can be understood via an analysis into small, local functional units, but the actual functions that cause behavior are highly distributed and a proper understanding of them will not be possible with a reductive local account."
—Metascience