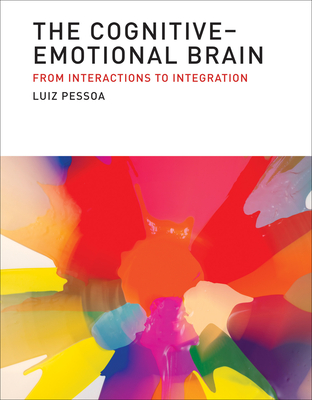 The Cognitive-Emotional Brain: From Interactions to Integration
Publication Date:
October 4th, 2013
The MIT Press Bookstore
4 on hand, as of Dec 8 10:45am
(NEURO)
On Our Shelves Now
Description
A study that goes beyond the debate over functional specialization to describe the ways that emotion and cognition interact and are integrated in the brain.
The idea that a specific brain circuit constitutes the emotional brain (and its corollary, that cognition resides elsewhere) shaped thinking about emotion and the brain for many years. Recent behavioral, neuropsychological, neuroanatomy, and neuroimaging research, however, suggests that emotion interacts with cognition in the brain. In this book, Luiz Pessoa moves beyond the debate over functional specialization, describing the many ways that emotion and cognition interact and are integrated in the brain.
The amygdala is often viewed as the quintessential emotional region of the brain, but Pessoa reviews findings revealing that many of its functions contribute to attention and decision making, critical components of cognitive functions. He counters the idea of a subcortical pathway to the amygdala for affective visual stimuli with an alternate framework, the multiple waves model. Citing research on reward and motivation, Pessoa also proposes the dual competition model, which explains emotional and motivational processing in terms of their influence on competition processes at both perceptual and executive function levels. He considers the broader issue of structure-function mappings, and examines anatomical features of several regions often associated with emotional processing, highlighting their connectivity properties. As new theoretical frameworks of distributed processing evolve, Pessoa concludes, a truly dynamic network view of the brain will emerge, in which "emotion" and "cognition" may be used as labels in the context of certain behaviors, but will not map cleanly into compartmentalized pieces of the brain.
About the Author
Luiz Pessoa is Professor of Psychology, member of the Program in Neuroscience and Cognitive Science, Principal Investigator of the Laboratory of Cognition and Emotion, and Director of the Maryland Neuroimaging Center at the University of Maryland, College Park.
Praise for The Cognitive-Emotional Brain: From Interactions to Integration
...this is an extremely valuable book, both as a resource for those who want to understand the current state of research on emotion and cognition, and as a coherent, well-supported challenge to the currently dominant understanding of the relationship between them.—Metapsychology—