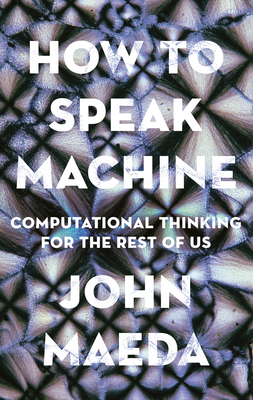 How to Speak Machine: Computational Thinking for the Rest of Us
Publication Date:
November 19th, 2019
The MIT Press Bookstore
14 on hand, as of Nov 30 10:32am
(DIGST)
On Our Shelves Now
Description
A simple, enduring framework for understanding the complex world of AI and machine learning.
"Before you can get machines to do what you want, you'd better learn to speak their language. John Maeda engineers rapprochement between humans and our computational creations in this engaging, enlightening book."
—Douglas Rushkoff, author of Team Human
As the capabilities of AI and language models like ChatGPT continue to advance, it is more important than ever to understand the implications and potential pitfalls of these technologies.
In this  book, John Maeda draws on his extensive experience as one of the world's preeminent interdisciplinary thinkers on technology and design to provide actionable guidance for businesses, product designers, and policymakers.
Using thoughtful explorations and occasionally whimsical examples, he identifies a framework that describes the key capabilities and pitfalls of any machine learning system, and offers a vision for how they can be used to create inclusive and world-changing products.
This is essential reading for anyone seeking a high-level understanding of how machines "think" and what the future may hold.
Praise for How to Speak Machine: Computational Thinking for the Rest of Us
"This book is mind-expanding. Not everyone needs to understand how to program a computer, but understanding how computers 'think' is no longer optional."
—Tim O'Reilly, founder and CEO of O'Reilly Media and bestselling author of WTF?
 
"People who are fluent in 'machine' shape how technology benefits and burdens each of us. Making that language, and power, more accessible begins with this book."
—Kat Holmes, UX director at Google and author of Mismatch
 
"Dazzling, unique, and radical. How to Speak Machine is like nothing I've ever read. It will rewire your brain (in a good way). A must-read for anyone looking to shape the future."
—Jake Knapp, New York Times bestselling author of Sprint
 
"John Maeda has written an entertaining, thought-provoking, and relatable guide for people who want to better understand design and computing, and the inextricable relationship between the two. He breaks down complex concepts and presents them in a way that is approachable and artful. I am thrilled to have How to Speak Machine in my toolkit as I work to level the playing field in the tech industry."
—Jewel Burks Solomon, tech entrepreneur
 
"Not a surprise, coming from John Maeda, this book is concise, eye-opening, approachable, constructive, and a necessary learning experience for anybody wishing to make the best of our contemporary world. It is the inscription, however, that says it all: only by embracing what makes us deeply human will we be able to find true companions—among humans and machines alike."
—Paola Antonelli, senior curator in MoMA's Department of Architecture and Design and founding director of MoMA Research & Development
 
"Loved, loved, loved this book, even though the title is wrong. It is not about machines; it's about philosophy, design, humanity, and our future. Buy it, devour it, gift it to those you care for."
—Juan Enriquez, bestselling author of As the Future Catches You and coauthor of Evolving Ourselves
 
"How to Speak Machine is an all-encompassing tour of the computational realm. John Maeda's delight and wonder, along with his cautionary wisdom, are exactly what we all need when thinking through the many implications for what happens when the worlds of machines and humans intersect."
—Sam Arbesman, author of Overcomplicated
 
"Before you can get machines to do what you want, you'd better learn to speak their language. John Maeda engineers rapprochement between humans and our computational creations in this engaging, enlightening book."
—Douglas Rushkoff, author of Team Human
 
"A book with as much to teach about human behavior as it does technology. Riveting and important."
--Emily Chang, Bloomberg TV Host and bestselling author of Brotopia

"You can always count on John Maeda to be different in a way that is provocative, fascinating, and inspiring, and in his new book, How to Speak Machine, all these talents are on prominent display."
--Don Norman, author of The Design of Everyday Things
"Artful and insightful, this book reveals the hidden beauty in the code bridging humans and machines."  
--Rolf Dobelli, author of The Art of Thinking Clearly