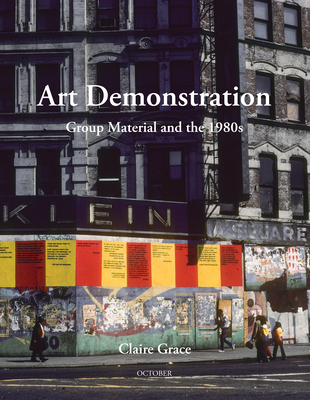 Art Demonstration: Group Material and the 1980s (October Books)
Publication Date:
May 24th, 2022
Special Order - Subject to Availability
Description
A study of Group Material, the influential but underexamined New York–based artist collective, investigating a series of key works.
 
Key predecessor of contemporary art's most radical activist gestures, the 1980s collective Group Material seized upon the temporary exhibition as a prime mode of intervention. Projects sited on walls, subways, and billboards targeted some of the most sensitive political conflicts of the era, from U.S. military interventions in Latin America to the AIDS crisis. In Art Demonstration, Claire Grace examines Group Material's New York–based collaboration across a decade that saw a wave of renewed interest in art as a domain of political mobilization. As Grace argues here, Group Material's art was never just a means to an end; looking itself held urgency.
 
Grace distinguishes between two types of Group Material projects: room-scale interiors featuring distinctive wall treatments, soundtracks, and boundary-crossing arrangements of objects, and works in spaces usually reserved for advertising. Grace analyzes the group's practice in both categories, examining such well-known projects as AIDS Timeline (1989) and Democracy (1988–1989) and lesser-known works including Subculture (1983) and The Castle (1987). Grace shows that the politics running through Group Material's practice ultimately resides in the artists' particular recourse to the exhibition form. With that bearing, Group Material's work insisted on the material in the face of postmodern theory's privileging of the discursive, and redistributed authorship within protean and pivotally diverse collective structures, testing in so doing the ever fragile contours of democratic participation as art became a commodity for speculative investment.