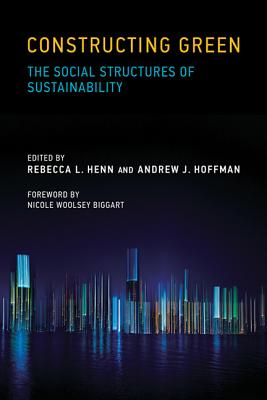 Constructing Green: The Social Structures of Sustainability (Urban and Industrial Environments)
Publication Date:
August 2nd, 2013
The MIT Press Bookstore
2 on hand, as of Sep 26 1:27pm
(URBAN)
On Our Shelves Now
Description
Experts consider green construction and the social, institutional, and cultural changes associated with it, through a sociological and organizational lens.
Buildings are the nation's greatest energy consumers. Forty percent of all our energy is used for heating, cooling, lighting, and powering machines and devices in buildings. And despite decades of investment in green construction technologies, residential and commercial buildings remain stubbornly energy inefficient. This book looks beyond the technological and material aspects of green construction to examine the cultural, social, and organizational shifts that sustainable building requires, examining the fundamental challenge to centuries-long traditions in design and construction that green building represents.
The contributors consider the changes associated with green building through a sociological and organizational lens. They discuss shifts in professional expertise created by new social concerns about green building, including evolving boundaries of professional jurisdictions; changing industry strategies and structures, including the roles of ownership, supply firms, and market niches; new operational, organizational, and cultural arrangements, including the mainstreaming of environmental concerns; narratives and frames that influence the perception of green building; and future directions for the theory and practice of sustainable construction. The essays offer uniquely multidisciplinary insights into the transformative potential of green building and the obstacles that must be overcome to make it the norm.
Contributors
Lauren Barhydt, Clayton Bartczak, Lyn Bartram, Olivier Berthod, Nicole Woolsey Biggart, Lenora Bohren, Bertien Broekhans, William Browning, Zinta S. Byrne, Michael Conger, Jennifer E. Cross, David Deal, Beth M. Duckles, Brian Dunbar, Robert Eccles, Amy Edmondson, Bill Franzen, Ronald Fry, Rebecca L. Henn, Jock Herron, Stephen Hockley, Andrew J. Hoffman, Kathryn B. Janda, Nitin Joglekar, Gavin Killip, Alison G. Kwok, Larissa Larsen, Michelle A. Meyer, Christine Mondor, Monica Ponce de Leon, Nicholas B. Rajkovich, Stuart Reeve, Johnny Rodgers, Garima Sharma, Geoffrey Th n, Ellen van Bueren, Kathy Velikov, Rohit Verma, Robert Woodbury, Jeffrey G. York, Jie Zhang