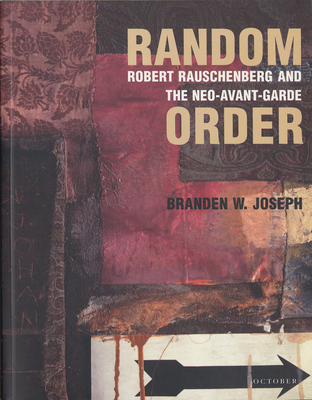 Random Order: Robert Rauschenberg and the Neo-Avant-Garde (October Books)
Publication Date:
February 23rd, 2007
Usually Ships in 1 to 5 Days
Description
An examination of the artistic development of Robert Rauschenberg, focusing on his relationship with John Cage and his role in the making of the American neo-avant-garde.
Robert Rauschenberg is one of the most important visual artists of the second half of the twentieth century. In Random Order, Branden Joseph examines Rauschenberg's work in the context of the American neo-avant-garde. One of the foundations of his study is Rauschenberg's professional relationship with experimental composer John Cage. From the moment of their encounter at Black Mountain College in 1952, Joseph argues, Rauschenberg and Cage initiated a new avant-garde project, one that approached the idea of difference not in terms of negation but as a positive force. Claiming that Rauschenberg's work cannot be understood solely from the standpoint of the Frankfurt School—whose theories have dominated discussions of avant-garde and neo-avant-garde aesthetics—Joseph turns to the theoretical positions of Gilles Deleuze and Jacques Derrida. Rauschenberg's neo-avant-garde was not a simple repetition of earlier avant-garde movements, Joseph shows, but a series of practices that opposed the rise of postwar spectacle, commodification, and mass conformity.
Beginning with the White Paintings, Joseph examines Rauschenberg's artistic development from 1951 to 1971. He looks at the black paintings, Red Paintings, Elemental Paintings and Elemental Sculptures, Combines and Combine paintings, transfer drawings and silkscreens, performances, and explorations in art and technology. Joseph's study not only offers new interpretations of Rauschenberg's work, but also deepens our understanding of the entire neo-avant-garde project.
Praise for Random Order: Robert Rauschenberg and the Neo-Avant-Garde (October Books)
Branden W. Joseph has embarked upon the ambitious project of reconstructing the essential part of Robert Rauschenberg's oeuvre...persuasively shown that Rauschenberg, together with [John] Cage, represents a specific and distinct instance of the American neo-avant-garde.—Ales Erjavec , Modernism/Modernity—
...succeeds in highlighting an anarchic and gratuitously radical streak in Rauschenberg's early practice that is worth attending to, one that is neither a repeat of earlier avant-garde gesturings nor simply an accommodation to the values and commodifying mechanisms of postwar American consumer society.
—Alex Potts, Art Bulletin—
The strongest passages deal with individual works in depth and with remarkable sensitivity to context. A chapter devoted to Rauschenberg's live performances is outstanding.
—James Lawrence, Burlington Magazine—
Those interested in the interrelationship of various modern arts genres will find this book especially illuminating.
—Library Journal—