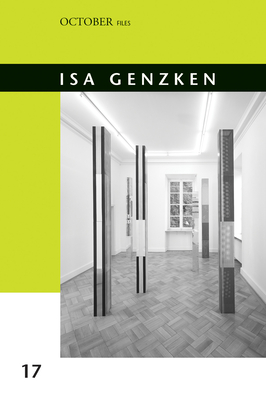 Isa Genzken (October Files #17)
Publication Date:
January 16th, 2015
The MIT Press Bookstore
1 on hand, as of Dec 8 10:45am
(ORD)
On Our Shelves Now
Description
Generously illustrated essays consider Isa Genzken's remarkable body of work, from her early elegant floor pieces to her later explosive assemblages.
Since the late 1970s, the Berlin-based contemporary artist Isa Genzken (b. 1948) has produced a body of work that is remarkable for its formal and material inventiveness. In her sculptural practice, Genzken has developed an expanded material repertoire that includes plaster, concrete, epoxy resin, and mass-produced objects that range from action figures to discarded pizza boxes. Her heterogeneous assemblages, a New York Times critic observes, are "brash, improvisational, full of searing color and attitude." Genzken, the recent subject of a major retrospective at MoMA, offers a highly original interpretation of modernist, avant-garde, and postminimalist practices even as she engages pressing sociopolitics and economic issues of the present.
These illustrated essays address the full span of Genzken's work, from the elegant floor sculptures with which she began her career to the assemblages, bursting with color and bristling with bric-a-brac, that she has produced since the beginning of the millennium. The texts, by writers including Yve-Alain Bois, Benjamin H. D. Buchloh, and the artist herself, consider her formation in the West German milieu; her critique of conventions of architecture, reconstruction, and memorialization; her sympathy with mass culture; and her ongoing interrogation of public and private spheres. Two texts appear in English for the first time, including a quasi-autobiographical screenplay written by Genzken in 1993.
Contributors
Yve-Alain Bois, Benjamin H. D. Buchloh, Diedrich Diederichsen, Hal Foster, Isa Genzken, Isabelle Graw, Lisa Lee, Pamela M. Lee, Birgit Pelzer, Juliane Rebentisch, Josef Strau, Wolfgang Tillmans, Lawrence Weiner
Contents
Isa Genzken: Two Exercises (1974) • Birgit Pelzer: Axiomatics Subject to Withdrawal (1979) • Benjamin H. D. Buchloh: Isa Genzken: The Fragment as Model (1992) • Benjamin H. D. Buchloh: Isa Genzken: Fuck the Bauhaus. Architecture, Design, and Photography in Reverse (2014) • Isa Genzken: Sketches for a Feature Film (1993) • Isabelle Graw: Free to Be Dependent: Concessions in the Work of Isa Genzken (1996) • Diedrich Diederichsen: Subjects at the End of the Flagpole (2000) • Pamela M. Lee: The Skyscraper at Ear Level (2003) • Benjamin H. D. Buchloh: All Things Being Equal (2005) • Wolfgang Tillmans: Isa Genzken: A Conversation with Wolfgang Tillmans (2003) • Diedrich Diederichsen: Diedrich Diederichsen in Conversation with Isa Genzken (2006) • Lisa Lee: "Make Life Beautiful!" The Diabolic in the Work of Isa Genzken (A Tour Through Berlin, Paris, and New York) (2007) • Lawrence Weiner: Isa Genzken Again (2010) • Juliane Rebentisch: The Dialectic of Beauty: On the Work of Isa Genzken (2007) • Yve-Alain Bois: The Bum and the Architect (2007) • Josef Strau: Isa Genzken: Sculpture as Narrative Urbanism (2009) • Hal Foster: Fantastic Destruction (2014)