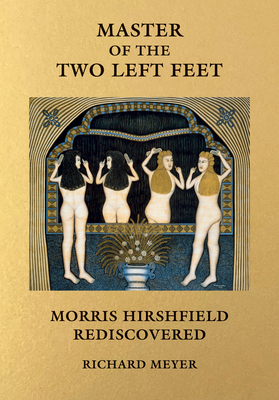 Master of the Two Left Feet: Morris Hirshfield Rediscovered
Publication Date:
September 13th, 2022
The MIT Press Bookstore
2 on hand, as of Dec 8 10:45am
(AT:OV)
On Our Shelves Now
Description
An account of the life and work of a once-famous self-taught American artist of the 1940s, and a study of how artists go missing from public memory.
The exhibition "Morris Hirshfield Rediscovered" at the American Folk Art Museum in New York City, curated by the author and developed as an extension of the book, is on view from September 22, 2022 to January 27, 2023.
A garment worker and slipper manufacturer with no training in art, Morris Hirshfield was never expected to make history. Against all odds, his wildly stylized paintings of female figures, often nude, animals, and landscapes became internationally known in the 1940s. Admired by Pablo Picasso, Piet Mondrian, and the French surrealists, his peak moment of visibility occurred in 1943, when the Museum of Modern Art mounted a one-man show of his work. The exhibition was widely reviewed—though mostly reviled—by the press, who jeeringly crowned Hirshfield "Master of the Two Left Feet" for his tendency to display the female body in that unorthodox fashion.
After the artist's death in 1946, his work was largely forgotten, but in Master of the Two Left Feet, art historian Richard Meyer rediscovers Hirshfield for twenty-first-century audiences, offering full-color reproductions that capture the vibrant imagination and sheer visual pleasure of Hirshfield's paintings. The book also features a catalog of works compiled by curator Susan Davidson which provides the most comprehensive documentation of the artist's work ever assembled.
Ten years in the making, Master of the Two Left Feet presents Hirshfield's unlikely career as a painter not only as a missing episode in the history of twentieth-century art but as a case study of the ways in which artists go missing from historical knowledge and public memory. By looking closely at Hirshfield and his milieu in 1940s Brooklyn, Meyer demonstrates how much we have yet to learn, and to see, of the visual past.
Praise for Master of the Two Left Feet: Morris Hirshfield Rediscovered
Included in the New Yorker's BEST BOOKS OF 2022 SO FAR
"Superb."
–The Times Literary Supplement
"The definitive book on the artist."
– The Wall Street Journal

"A labor of love by the show's curator, Richard Meyer."
– the New Yorker
"Meyer elaborates the chief influence on Hirshfield's art and its unwavering artifice...The book also contains a catalog of some 78 of Hirshfield's paintings that is itself fascinating reading."
–New York Times
"Morris Hirshfield, A Once Obscure Self-Taught Artist, Is Having A Major Resurgence."
–ArtNews
Reviews of "Morris Hirshfield Rediscovered" at the American Folk Art Museum
"Morris Hirshfield Rises Again: The paintings of this self-taught artist slipped from view after his death in 1946...an  extravagantly orchestrated exhibition at the American Folk Art Museum is one of the season's best."
– the New York Times 
"The American Folk Art Museum's energising exhibition Morris Hirshfield Rediscovered tells the story of a painter who found his calling late in life, was briefly hailed, then drummed out of the club of 20th-century American artists."
–the Financial Times

"Morris Hirshfield Rediscovered, at the American Folk Art Museum in New York, is a revelation. Hirshfield's work is uncannily original, all the more startling for having been mostly unseen since the artist's death in 1946. His story reflects the exclusivity of the art establishment and its tendency to sideline work by self-taught or unaffiliated artists."
–The Times Literary Supplement

"Now Morris Hirshfield Rediscovered at the American Folk Art Museum allows us to see almost half of the works produced by this eccentric painter of wide-eyed cats, wildly patterned dogs, spotted sheep, caparisoned circus elephants, the occasional fierce tiger, exotic birds and a surprising number of voluptuous women, clothed and unclothed. Organized by the Stanford University professor of art history,  Richard Meyer, author of Master of the Two Left Feet: Morris Hirshfield Rediscovered, the definitive book on the artist, the show is a retrospective of Hirshfield's paintings—many unexpectedly large—loosely grouped into sections on animals, nudes and Jewish themes, plus a few landscapes and full-size preparatory drawings, sporadically contextualized by photographs."
–the Wall Street Journal
"This biography of the self-taught painter Morris Hirshfield (1872-1946) is also a study of the vageries of artistic reputation.[…] Meyer situates Hirshfield's idiosyncratic output in the popular imagery and fine art of the period, suggesting that he was savvier than his early admirers knew."
–the New Yorker