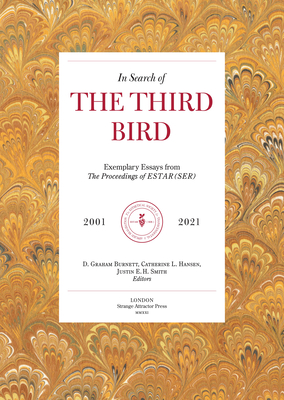 In Search of The Third Bird: Exemplary Essays from The Proceedings of ESTAR(SER), 2001-2021
Publication Date:
December 14th, 2021
Publisher:
Strange Attractor Press
The MIT Press Bookstore
2 on hand, as of Sep 26 1:27pm
(STATT)
On Our Shelves Now
Description
The real history of the covey of attention-artists who call themselves "The Birds."
A great deal of uncertainty--and even some genuine confusion--surrounds the origin, evolution, and activities of the so-called Avis Tertia or "Order of the Third Bird." Sensational accounts of this "attentional cult" emphasize histrionic rituals, tragic trance-addictions, and the covert dissemination of obscurantist ontologies of the art object. Hieratic, ecstatic, and endlessly evasive, the Order attracts sensual misfits and cabalistic aesthetes--both to its ranks, and to its scholarship.
In recent years, however, the revisionist work of the research collective ESTAR(SER) has done much to clear the air, bringing archival precision to the history of this covey of attention-artists who call themselves "The Birds." Gathering the best articles of the last twenty years of The Proceedings of ESTAR(SER), this volume represents a landmark in the history of aesthetic practices, and will be a point of departure for future work wading the muddy marshes at the limits of historicism.
About the Author
D. Graham Burnett serves on the board of trustees of the Milcom Memorial Reading Room and Attention Library; he holds a faculty appointment at Princeton University and edits "Conjectures" for the Public Domain Review. Catherine L. Hansen teaches at the University of Tokyo, and is a contributor to The International Encyclopedia of Surrealism. Justin E. H. Smith is Professor of Philosophy in the Department of History and Philosophy of Science at the University of Paris. From 2019 to 2020, Smith was John and Constance Birkelund Fellow at the Cullman Center for Scholars and Writers of the New York Public Library.
Praise for In Search of The Third Bird: Exemplary Essays from The Proceedings of ESTAR(SER), 2001-2021
"[A] poetic history of sorts. Our reading becomes an exercise in 'practical aesthesis,' and In Search of the Third Bird a riveting aesthetic object in its own right."
—Josefina Massot, Los Angeles Review of Books