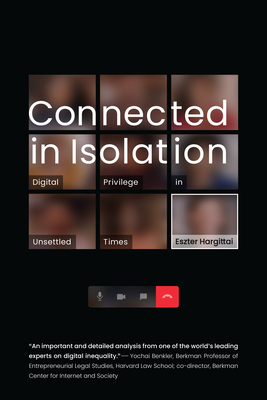 Connected in Isolation: Digital Privilege in Unsettled Times
Publication Date:
November 8th, 2022
The MIT Press Bookstore
1 on hand, as of Dec 8 10:45am
(DIGST)
On Our Shelves Now
Description
What life during lockdown reveals about digital inequality.
The vast majority of people in wealthy, highly connected, or digitally privileged societies may have crossed the digital divide, but being online does not mean that everyone is equally connected—and digital inequality reflects experience both online and off. In Connected in Isolation Eszter Hargittai looks at how this digital disparity played out during the unprecedented isolation imposed in the early days of the coronavirus pandemic.
 
During initial COVID-19 lockdowns the Internet, for many, became a lifeline, as everything from family get-togethers to doctor's visits moved online. Using survey data collected in April and May of 2020 in the United States, Italy, and Switzerland, Hargittai explores how people from varied backgrounds and differing skill levels were able to take advantage of digital media to find the crucial information they needed—to help loved ones, procure necessities, understand rules and risks. Her study reveals the extent to which long-standing social and digital inequalities played a critical role in this move toward computer-mediated communication—and were often exacerbated in the process. However, Hargittai notes, context matters: her findings reveal that some populations traditionally disadvantaged with technology, such as older people, actually did better than others, in part because of the continuing importance of traditional media, television in particular.
 
The pandemic has permanently shifted how reliant we are upon online information, and the implications of Hargittai's groundbreaking comparative research go far beyond the pandemic. Connected in Isolation informs and expands our understanding of digital media, including how they might mitigate or worsen existing social disparities; whom they empower or disenfranchise; and how we can identify and expand the skills people bring to them.
Praise for Connected in Isolation: Digital Privilege in Unsettled Times
"Connected in Isolation is an extraordinary document based on rigorous academic research principles. And while today, in the context of the immediate aftermath of the pandemic, it is without doubt a fascinating read, the full value of Hargittai's work is yet to be realized. In the decades to come, Connected in Isolation will become required reading and an important research resource for those wishing to analyzes society's response to the pandemic with the added perspective of elapsed time."
–E&T Engineering and Technology Magazine