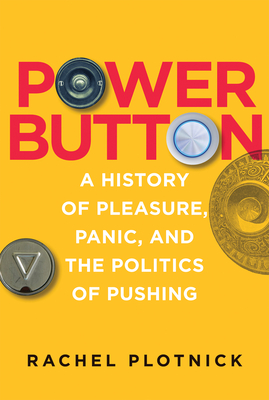 Power Button: A History of Pleasure, Panic, and the Politics of Pushing
Publication Date:
September 25th, 2018
The MIT Press Bookstore
3 on hand, as of Sep 21 10:34am
(STS)
On Our Shelves Now
Description
Push a button and turn on the television; tap a button and get a ride; click a button and "like" something. The touch of a finger can set an appliance, a car, or a system in motion, even if the user doesn't understand the underlying mechanisms or algorithms. How did buttons become so ubiquitous? Why do people love them, loathe them, and fear them? In Power Button, Rachel Plotnick traces the origins of today's push-button society by examining how buttons have been made, distributed, used, rejected, and refashioned throughout history. Focusing on the period between 1880 and 1925, when "technologies of the hand" proliferated (including typewriters, telegraphs, and fingerprinting), Plotnick describes the ways that button pushing became a means for digital command, which promised effortless, discreet, and fool-proof control. Emphasizing the doubly digital nature of button pushing—as an act of the finger and a binary activity (on/off, up/down)—Plotnick suggests that the tenets of precomputational digital command anticipate contemporary ideas of computer users.
Plotnick discusses the uses of early push buttons to call servants, and the growing tensions between those who work with their hands and those who command with their fingers; automation as "automagic," enabling command at a distance; instant gratification, and the victory of light over darkness; and early twentieth-century imaginings of a future push-button culture. Push buttons, Plotnick tells us, have demonstrated remarkable staying power, despite efforts to cast button pushers as lazy, privileged, and even dangerous.
Praise for Power Button: A History of Pleasure, Panic, and the Politics of Pushing
This dazzling account looks, for example, at the phenomenon of "ringing for servants" and what it tells us about "the relationship between button pushers and those individuals made to heed their call". It also shows how and why buttons, for more than a century, have "crystallize[d] enduring social hopes and fears about 'easy' technological solutions.—Times Higher Education—
Push buttons pop up on everything from blenders to aeroplanes. Yet, as Rachel Plotnick reveals in this unusual technological history, the mechanism had an explosive impact on culture from its debut in the 1880s to the 1920s and beyond.
—Nature—
Thought provoking, not least for engineers who employ them as the main point of relationship between the output of their work and the ultimate user.
—Engineering & Technology—
An engrossing cultural history.
—London Review of Books—
Loaded with sharp observations and prescient pronouncements about how pushing (and clicking, tapping, and swiping) became our way of life.
—Los Angeles Review of Books—
This volume is a valuable contribution to our understanding of technology, interface design, and the history of science… Highly recommended.
—CHOICE—