Discounted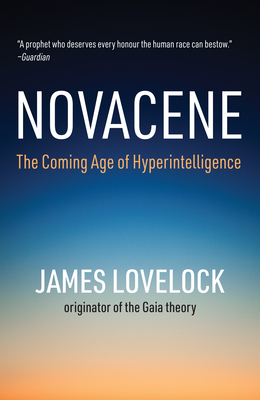 Novacene: The Coming Age of Hyperintelligence
Previous price:

$17.95
Current price:

$16.95
Publication Date:
November 10th, 2020
The MIT Press Bookstore
1 on hand, as of Dec 5 4:07pm
(STS)
On Our Shelves Now
Description
A fascinating new study from the originator of the Gaia Theory, "who conceived the first wholly new way of looking at life on earth since Charles Darwin" (Independent)
One of the world's leading scientific thinkers offers a vision of a future epoch in which humans and artificial intelligence unite to save the Earth.
James Lovelock, creator of the Gaia hypothesis and the greatest environmental thinker of our time, has produced an astounding new theory about future of life on Earth. He argues that the Anthropocene—the age in which humans acquired planetary-scale technologies—is, after 300 years, coming to an end. A new age—the Novacene—has already begun.
In the Novacene, new beings will emerge from existing artificial intelligence systems. They will think 10,000 times faster than we do and they will regard us as we now regard plants. But this will not be the cruel, violent machine takeover of the planet imagined by science fiction. These hyperintelligent beings will be as dependent on the health of the planet as we are. They will need the planetary cooling system of Gaia to defend them from the increasing heat of the sun as much as we do. And Gaia depends on organic life. We will be partners in this project.
It is crucial, Lovelock argues, that the intelligence of Earth survives and prospers. He does not think there are intelligent aliens, so we are the only beings capable of understanding the cosmos. Perhaps, he speculates, the Novacene could even be the beginning of a process that will finally lead to intelligence suffusing the entire cosmos. At the age of 100, James Lovelock has produced the most important and compelling work of his life.
Praise for Novacene: The Coming Age of Hyperintelligence
"A prophet who deserves every honour the human race can bestow."
—Guardian
 
"The greatest scientific thinker of our time."
—Sunday Times

"The scientist who changed our view of the Earth."
—Independent

"The most influential scientist and writer since Charles Darwin."
—Irish Times

"The visionary who gave the world Gaia theory."
—Daily Telegraph
"Novacene is the collected wisdom of an elder of our tribe which more than repays the short time it takes to read."
—Financial Times

"Are robots going to kill us all? They might if they feel like it, says the scientist James Lovelock in his new book. Or they might not. Look, it's not very important. I have never read a jauntier book about artificial intelligence taking over the world."
—The Times