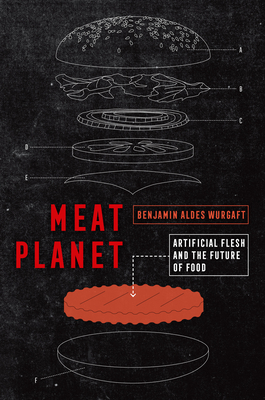 Meat Planet: Artificial Flesh and the Future of Food (California Studies in Food and Culture #69)
Publication Date:
September 3rd, 2019
Publisher:
University of California Press
The MIT Press Bookstore
3 on hand, as of Nov 30 10:32am
(MITA)
On Our Shelves Now
Description
In 2013, a Dutch scientist unveiled the world's first laboratory-created hamburger. Since then, the idea of producing meat, not from live animals but from carefully cultured tissues, has spread like wildfire through the media. Meanwhile, cultured meat researchers race against population growth and climate change in an effort to make sustainable protein. Meat Planet explores the quest to generate meat in the lab—a substance sometimes called "cultured meat"—and asks what it means to imagine that this is the future of food.
Neither an advocate nor a critic of cultured meat, Benjamin Aldes Wurgaft spent five years researching the phenomenon. In Meat Planet, he reveals how debates about lab-grown meat reach beyond debates about food, examining the links between appetite, growth, and capitalism. Could satiating the growing appetite for meat actually lead to our undoing? Are we simply using one technology to undo the damage caused by another? Like all problems in our food system, the meat problem is not merely a problem of production. It is intrinsically social and political, and it demands that we examine questions of justice and desirable modes of living in a shared and finite world.
Benjamin Wurgaft tells a story that could utterly transform the way we think of animals, the way we relate to farmland, the way we use water, and the way we think about population and our fragile ecosystem's capacity to sustain life. He argues that even if cultured meat does not "succeed," it functions—much like science fiction—as a crucial mirror that we can hold up to our contemporary fleshy dysfunctions.
Praise for Meat Planet: Artificial Flesh and the Future of Food (California Studies in Food and Culture #69)
 "A balm for those weary of the lab meat bluster—people tired of the endless promises, and done waiting for the better days ahead."
— New Food Economy
"Historian Benjamin Wurgaft explores [the] 'small, strange world' [of lab-grown meat] in a thoughtful study mixing science reportage with philosophical meditations."
— Nature
Chosen as one of the "Big Indie Books of Fall 2019." 
 
— Publishers Weekly
"A thoughtful examination of the technological, ethical, and cultural issues swirling around the development of artificial flesh. It's a quick-witted, journalistic survey of lab-cultured meat—how it's made, financed, and branded. Overlaying this complex brew are nuanced ruminations about the future of food and problems with industrialized agriculture, like the spread of zoonotic disease, environmental damage, and antibiotic resistance. . . . Dense but never dry, abstract questions and large ideas are interspersed with lively and fascinating conversations with rabbis about whether artificial meat is kosher and with tissue engineers about the possibilities of replacing organs in humans and leather in fashions. Rarified subcultures of venture capitalism and futurism are also penetrated."
— Foreword
"Wurgaft's investigation into cellular-grown meat's various industrial and cultural issues should stand as an essential introduction to the subject."
— Publishers Weekly
"A fascinating, thought provoking book."
— New York Journal of Books
"An engrossing read for anyone curious about the future of our planet's food."
 
— Jamie Drummond
"Erudite, eloquent, and funny, Wurgaft makes an excellent guide. He leads the reader through focus groups, art installations, panel discussions, and even the odd laboratory. Wurgaft embarks on fascinating explorations of the powerful hold that notions of the 'real' and the 'natural' have on the cultured meat movement."
— Public Books
"Jung makes a powerful intervention into the historiography of anti-Asian racism, which is often located within stories of white nativist anger and Asian victimhood of legal and extralegal violence."
— Public Books