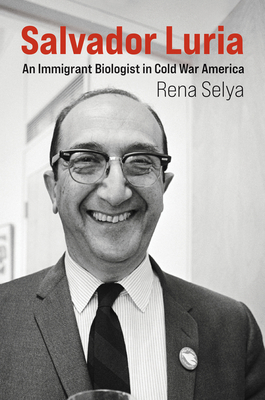 Salvador Luria: An Immigrant Biologist in Cold War America
Publication Date:
October 25th, 2022
The MIT Press Bookstore
6 on hand, as of Nov 30 10:32am
(STS)
On Our Shelves Now
Description
The life of Nobel-winning biologist Salvador Luria, whose passion for science was equaled by his commitment to political engagement in Cold War America.
Blacklisted from federal funding review panels but awarded a Nobel Prize for his research on bacteriophage, biologist Salvador Luria (1912–1991) was as much an activist as a scientist. In this first full-length biography of Luria, Rena Selya draws on extensive archival research; interviews with Luria's family, colleagues, and students; and FBI documents obtained through the Freedom of Information Act to create a compelling portrait of a man committed to both science and society.
In addition to his work with viruses and bacteria in the 1940s, Luria broke new ground in molecular biology and cancer research from the 1950s to the 1980s and was a leader in calling for scientists to accept an educational and advisory responsibility to the public. In return, he believed, the public should rely on science to strengthen social and political institutions.
Luria was born in Italy, where the Fascists came to power when he was ten. He left Italy for France due to the antisemitic Race Laws of 1938, and then fled as a Jewish refugee from Nazi Europe, making his way to the United States. Once an American citizen, Luria became a grassroots activist on behalf of civil rights, labor representation, nuclear disarmament, and American military disengagement from the Vietnam and Gulf Wars. Luria joined the MIT faculty in 1960 and was the founding director of the Center for Cancer Research. Throughout his life he remained as passionate about his engagement with political issues as about his science, and continued to fight for peace and freedom until his death.
Praise for Salvador Luria: An Immigrant Biologist in Cold War America
"Microbiologist Salvador Luria was a man of firm political convictions. The day before he won a share in the 1969 Nobel Prize in Physiology or Medicine, he talked to state legislators in Massachusetts, attended a peace convocation at the Massachusetts Institute of Technology (MIT) in Cambridge and joined a protest against the Vietnam War. The FBI had begun monitoring him a few years after he arrived in the United States in 1940, fleeing fascist Italy. The Nobel didn't stop them.
Luria shared the prize with Max Delbrück and Alfred Hershey for research on bacteriophages, viruses that invade and often kill bacteria. This work tilled the ground for the fields of bacterial genetics, virology and molecular biology. Science historian Rena Selya distils his story in her well-researched Salvador Luria."
—Nature