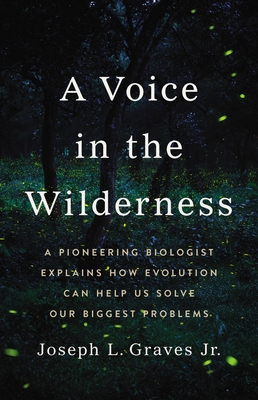 A Voice in the Wilderness: A Pioneering Biologist Explains How Evolution Can Help Us Solve Our Biggest Problems
Publication Date:
September 13th, 2022
The MIT Press Bookstore
1 on hand, as of Nov 30 10:32am
(NATUR)
On Our Shelves Now
Description
Why understanding evolution—the most reviled branch of science—can help us all, from fighting pandemics to undoing racism 
Evolutionary science has long been regarded as conservative, a tool for enforcing regressive ideas, particularly about race and gender. But in A Voice in the Wilderness, evolutionary biologist Joseph L. Graves Jr.—once styled as the "Black Darwin"—argues that his field is essential to social justice. He shows, for example, why biological races do not exist. He dismantles recent work in "human biodiversity" seeking genes to explain the achievements of different ethnic groups. He decimates homophobia, sexism, and classism as well. 
As a pioneering Black biologist, a leftist, and a Christian, Graves uses his personal story—his journey from a child of Jim Crow to a major researcher and leader of his peers—to rewrite his field. A Voice in the Wilderness is a powerful work of scientific anti-racism and a moving account of a trailblazing life.   
Praise for A Voice in the Wilderness: A Pioneering Biologist Explains How Evolution Can Help Us Solve Our Biggest Problems
"… a forceful narrative that is simultaneously autobiographical and scientific. Graves refuses to mask the political and experiential realities of the U.S., authentically narrating a life wherein robust methodical and theoretical approaches in evolutionary biology can, and should, be entangled with the struggle for social justice… This is an engaging book with a lot of cool science." 
 —Agustín Fuentes, Scientific American
"By interleaving the personal, political, and scientific, Graves shows that scientific discoveries are inseparable from the social insights that led to them… Graves harnesses evolutionary theory to argue that the complexities of multilevel selection make the pursuit of justice 'our only hope, not just because it is morally right and long overdue but because without it our species will die.' This is no polemical conclusion but one borne out by all that Graves has shown, in his work in biology and in his own life." —Adam R. Shapiro, Science Magazine
"Convincing arguments against scientific racism from an acclaimed researcher and scholar."
—Kirkus
"A Voice in the Wilderness is a stirring biography, the tale of a pioneer who overcame obstacles, broke barriers, and spoke truth to power using a most unusual tool—the theory of Darwinian Evolution. This is an inspiring story about perseverance that's essential reading for those searching for how to transform scientific mastery into an instrument for social good."—C. Brandon Ogbunu, Yale University
"Science—especially evolutionary science—needs diverse, beautiful minds. This uniquely powerful book shows us exactly why."
 —Holly Dunsworth, University of Rhode Island
"In this fascinating book, equal parts biography and scientific argument, Graves shows that evolutionary biology is central to making sense of, well, everything. A must-read."—Rob Dunn, author of A Natural History of the Future