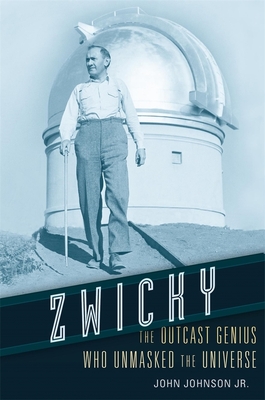 Zwicky: The Outcast Genius Who Unmasked the Universe
Publication Date:
September 10th, 2019
Publisher:
Harvard University Press
The MIT Press Bookstore
2 on hand, as of Dec 8 10:45am
(GS:CO)
On Our Shelves Now
Description
"A fitting biography of one of the most brilliant, acerbic, and under-appreciated astrophysicists of the twentieth century. John Johnson has delved deeply into a rich and eventful life, and produced a rollicking account of how Fritz Zwicky split his time between picking fights with his colleagues and discovering amazing things about our universe."--Sean Carroll, author of The Big Picture
Fritz Zwicky was one of the most inventive and iconoclastic scientists of his time. He predicted the existence of neutron stars, and his research pointed the way toward the discovery of pulsars and black holes. He was the first to conceive of the existence of dark matter, the first to make a detailed catalog of thousands of galaxies, and the first to correctly suggest that cosmic rays originate from supernovas.
Not content to confine his discoveries to the heavens, Zwicky contributed to the United States war against Japan with inventions in jet propulsion that enabled aircraft to launch from carriers in the Pacific. After the war, he was the first Western scientist to interview Wernher von Braun, the Nazi engineer who developed the V-2 rocket. Later he became an outspoken advocate for space exploration, but also tangled with almost every leading scientist of the time, from Edwin Hubble and Richard Feynman to J. Robert Oppenheimer and Subrahmanyan Chandrasekhar.
In Zwicky, John Johnson, Jr., brings this tempestuous maverick to life. Zwicky not only made groundbreaking contributions to science and engineering; he rose to fame as one of the most imaginative science popularizers of his day. Yet he became a pariah in the scientific community, denouncing his enemies, real and imagined, as "spherical bastards" and "horses' asses." Largely forgotten today, Zwicky deserves rediscovery for introducing some of the most destructive forces in the universe, and as a reminder that genius obeys no rules and has no friends.