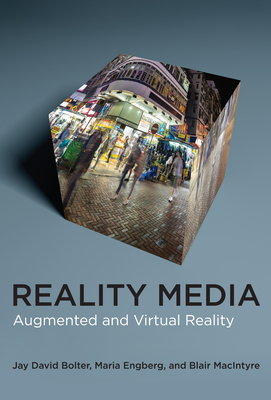 Reality Media: Augmented and Virtual Reality
Publication Date:
November 16th, 2021
Special Order - Subject to Availability
Description
How augmented reality and virtual reality are taking their places in contemporary media culture alongside film and television.
T
This book positions augmented reality (AR) and virtual reality (VR) firmly in contemporary media culture. The authors view AR and VR not as the latest hyped technologies but as media—the latest in a series of what they term "reality media," taking their places alongside film and television. Reality media inserts a layer of media between us and our perception of the world; AR and VR do not replace reality but refashion a reality for us. Each reality medium mediates and remediates; each offers a new representation that we implicitly compare to our experience of the world in itself but also through other media.
 
The authors show that as forms of reality media emerge, they not only chart a future path for media culture, but also redefine media past. With AR and VR in mind, then, we can recognize their precursors in eighteenth-century panoramas and the Broadway lights of the 1930s. A digital version of Reality Media, available through the book's website, invites readers to visit a series of virtual rooms featuring interactivity, 3-D models, videos, images, and texts that explore the themes of the book.
About the Author
Jay David Bolter is James and Mary Wesley Chair in New Media at the Georgia Institute of Technology, and Senior Professor in Computer Science and Media Technology at Malmö University in Sweden. He is the author of The Digital Plenitude (MIT Press) and other books. Maria Engberg is Associate Professor in the Department of Computer Science and Media Technology at Malmö University. Blair MacIntyre is Professor at Georgia Institute of Technology. MacIntyre and Bolter are codirectors of the Augmented Environments Lab at the Georgia Institute of Technology, where Engberg is Affiliate Researcher.