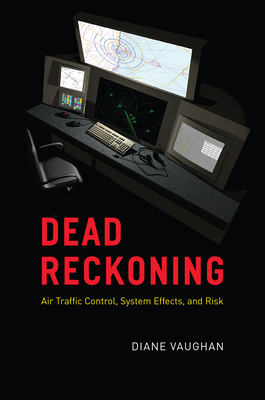 Dead Reckoning: Air Traffic Control, System Effects, and Risk
Publication Date:
February 13th, 2023
Publisher:
University of Chicago Press
The MIT Press Bookstore
1 on hand, as of Dec 8 10:45am
(STS)
On Our Shelves Now
Description
Vaughan unveils the complicated and high-pressure world of air traffic controllers as they navigate technology and political and public climates, and shows how they keep the skies so safe.
When two airplanes were flown into the World Trade Center towers on September 11, 2001, Americans watched in uncomprehending shock as first responders struggled to react to the situation on the ground. Congruently, another remarkable and heroic feat was taking place in the air: more than six hundred and fifty air traffic control facilities across the country coordinated their efforts to ground four thousand flights in just two hours—an achievement all the more impressive considering the unprecedented nature of the task.
In Dead Reckoning, Diane Vaughan explores the complex work of air traffic controllers, work that is built upon a close relationship between human organizational systems and technology and is remarkably safe given the high level of risk. Vaughan observed the distinct skill sets of air traffic controllers and the ways their workplaces changed to adapt to technological developments and public and political pressures. She chronicles the ways these forces affected their jobs, from their relationships with one another and the layouts of their workspace to their understanding of their job and its place in society. The result is a nuanced and engaging look at an essential role that demands great coordination, collaboration, and focus—a role that technology will likely never be able to replace. Even as the book conveys warnings about complex systems and the liabilities of technological and organizational innovation, it shows the kinds of problem-solving solutions that evolved over time and the importance of people.
Praise for Dead Reckoning: Air Traffic Control, System Effects, and Risk
"From the dead reckoning of early navigation with its reliance on sun, stars, and wind, Vaughan develops her analysis of the present-day work of an air traffic controller, which involves an increasingly high degree of automation with consequent loss of skills and many controllers' jobs. Drawing on interview data, Vaughan illuminates what has made air travel so safe by examining the large sociotechnical systems in which work is performed, focusing on the changing nature of organizations, technologies, and work. Recommended."
— Choice
"Diane Vaughan's Dead Reckoning: Air Traffic Control, System Effects, and Risk shows exactly how organizational excellence is achieved through organizational member's ongoing collaborative work undergirded by—and sometimes despite—organizational rules, political pressures, and other societal demands that shapes the external environment. The result is an excellent portrayal of what Daniel F. Chambliss once called the "mundanity of excellence" in complex organizations—showing how far from obvious, or mundane, it is."
— Social Forces
"Diane Vaughan's famous analysis of the Challenger tragedy is followed here with a study of air traffic control. Vaughan really wants to know how it works and she succeeds. As a result she is in the right place, both physically and analytically, to explain what happened to a sky full of airplanes on 9/11. And Vaughan can write: just her introductory description of how she invaded the controllers' domain is gripping. Like her Challenger book, this sets the gold standard."
— Harry Collins, Cardiff University
"With Dead Reckoning, Vaughan—a leading student of how organizations go wrong—studies an organizational system, the air flight control system for commercial aviation, with an extraordinary track record of getting things right. The author approaches her topic from every direction, seamlessly integrating organization theory and technology studies; analyzing how skill is embedded both in individuals and in workgroups but also how the institutional systems in which controllers live and with which they must interact shape their work; and, in a model of multi-method, multi-level research, combining multi-site ethnography with historical analysis spanning forty years and including such events as the PATCO strike and the terrorist attacks of 9/11. The result is a breathtaking achievement, a comprehensive, analytically shrewd, and gracefully written study that explains the effectiveness of air flight controllers both in routine times and during crises."
— Paul DiMaggio, New York University
"Vaughan explores air traffic control with unparalleled care: an awe-inspiring breadth, depth, and lyricality that is mostly unmatched in contemporary scholarship on organizations, cementing her reputation as one of the most inspired scholars of her generation."
— Organization Studies