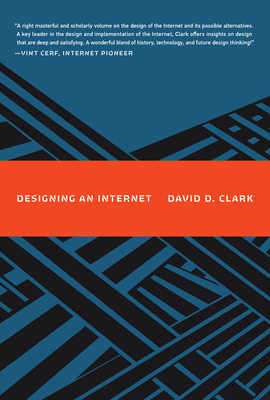 Designing an Internet (Information Policy)
Publication Date:
October 30th, 2018
Special Order - Subject to Availability
Description
Why the Internet was designed to be the way it is, and how it could be different, now and in the future.
How do you design an internet? The architecture of the current Internet is the product of basic design decisions made early in its history. What would an internet look like if it were designed, today, from the ground up? In this book, MIT computer scientist David Clark explains how the Internet is actually put together, what requirements it was designed to meet, and why different design decisions would create different internets. He does not take today's Internet as a given but tries to learn from it, and from alternative proposals for what an internet might be, in order to draw some general conclusions about network architecture.
Clark discusses the history of the Internet, and how a range of potentially conflicting requirements—including longevity, security, availability, economic viability, management, and meeting the needs of society—shaped its character. He addresses both the technical aspects of the Internet and its broader social and economic contexts. He describes basic design approaches and explains, in terms accessible to nonspecialists, how networks are designed to carry out their functions. (An appendix offers a more technical discussion of network functions for readers who want the details.) He considers a range of alternative proposals for how to design an internet, examines in detail the key requirements a successful design must meet, and then imagines how to design a future internet from scratch. It's not that we should expect anyone to do this; but, perhaps, by conceiving a better future, we can push toward it.
Praise for Designing an Internet (Information Policy)
Encyclopedic in scope, covering most if not all of the policy decisions one must make in designing an internet that addresses core network needs: longevity, security, availability, economic viability, management, and social needs.... Close to essential as a reference work on the conceptual underpinnings of network design and anecdotes on how things got to where they are today.... Highly recommended.—Choice—
Fascinating.... Clark describes versions of internet architecture that never took off; versions that he wishes he had thought of earlier; and qualities of the current version that he thinks are most conducive to its flexibility, or most inimical to it....
—Public Books—