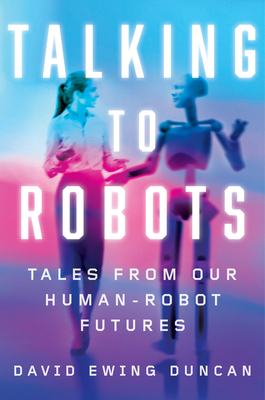 Talking to Robots: Tales from Our Human-Robot Futures
Publication Date:
July 16th, 2019
The MIT Press Bookstore
1 on hand, as of Nov 30 10:32am
(CS)
On Our Shelves Now
Description
Award-winning journalist David Ewing Duncan considers 24 visions of possible human-robot futures—Incredible scenarios from Teddy Bots to Warrior Bots, and Politician Bots to Sex Bots—Grounded in real technologies and possibilities and inspired by our imagination.
What robot and AI systems are being built and imagined right now? What do they say about us, their creators? Will they usher in a fantastic new future, or destroy us? What do some of our greatest thinkers, from physicist Brian Greene and futurist Kevin Kelly to inventor Dean Kamen, geneticist George Church, and filmmaker Tiffany Shlain, anticipate about our human-robot future? For even as robots and A.I. intrigue us and make us anxious about the future, our fascination with robots has always been about more than the potential of the technology–it's also about what robots tell us about being human.
Praise for Talking to Robots: Tales from Our Human-Robot Futures
Praise for Talking to Robots: 
"If you want to see what that future might look like, Duncan's book is a fun place to start."--NPR
"One of 32 Books You Need to Read This Summer" and a "riveting read."--Time.com
"A refreshing variation on the will-intelligent-robots-bring-Armageddon genre…this colorful mixture of expert futurology and quirky speculation does not disappoint."--Kirkus

"5 books not to miss...A fascinating work of imaginative futurology"--USA Today
"Intensely readable, downright terrifying, and surprisingly uplifting."--VanityFair.com
"Until we have a non-fiction robot that writes brilliant, insightful books (I give it 25 years), we can thank God we have David Ewing Duncan. Thanks to David's book, I have a healthy mix of wonder and panic about the future. But more important, perhaps: I feel a bit more prepared for this radically different landscape, one where robots change everything from politics to parenting, from coffee to sex."--AJ Jacobs, author of Drop Dead Healthy
"This book is a brilliant chronicle of encounters with our future selves, even as we already experience the vertigo of changing. Drawn from real conversations with living visionaries, Duncan takes us to the crossroads of the inevitable merging of human and machine. Splendidly written, passionately argued, and well-researched, this book is a divination tool for the arrival of either the utopia or the apocalypse."--Andrei Codrescu, author of Raised by Puppets Only to Be Killed by Research: essays from NPR

"For the last two years Duncan—a contributor to Vanity Fair, Wired, and the Atlantic—has been pairing his journalistic expertise with his imagination to ponder where advancements in robotics and artificial intelligence may soon take us. The result of this hybrid reporting/fantasizing process is his intensely readable, downright terrifying, and surprisingly uplifting new book, Talking to Robots… For a good cry, try Memory Bot or Teddy Bot. If you want to never sleep again, Warrior Bot is for you… Duncan, in many ways, is a historian of the future—that is, the ways in which humans have historically envisioned what's to come."–Vanity Fair 

"We talk a lot about AI… taking our jobs and candidly there's a lot written… This book is a fascinating look… It's definitely worth picking up and thought-provoking to stay the least."–Bloomberg
 
"So this is a pretty serious book. The author interviewed about two dozen people in various fields, genetics, physics, filmmaking, writing, about the coming disruption from robots and AI. For instance, can a robot or AI write a really compelling thriller? Can they write a terrific song? Can they write a film that millions will go out to watch? And I think what this book really tells is the coming disruption from AI… It's a huge discussion in this book."–David Baldacci on the Today Show

"A creative mix of fiction and nonfiction, such as in Talking to Robots, might be the ideal vehicle to illuminate our current situation - even if that approach leaves us in doubt about what might be coming next."–Inside Higher Ed
"An ingenious blend of fiction and non-fiction, future and present, a story about serious issues told with disarming humor."–The American Conservative