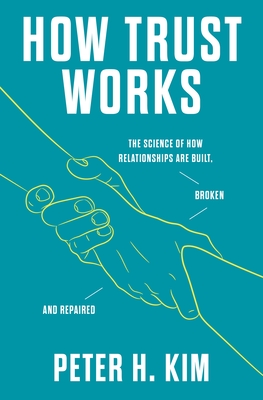 How Trust Works: The Science of How Relationships Are Built, Broken, and Repaired
Publication Date:
August 15th, 2023
Publisher:
Flatiron Books
The MIT Press Bookstore
1 on hand, as of Nov 30 10:32am
(PSYCH)
On Our Shelves Now
Description
From the world's leading expert on trust repair, a guide to understanding the most essential foundation of our relationships and communities.
When our trust is broken, and when our own trustworthiness is called into question, many of us are left wondering what to do. We barely know how trust works. How could we possibly repair it?
Dr. Peter H. Kim, the world's leading expert in the rapidly growing field of trust repair, has conducted over two decades of groundbreaking research to answer that question. In How Trust Works, he draws on this research and the work of other social scientists to reveal the surprising truths about how relationships are built, how they are broken, and how they are repaired. Dr. Kim's work shows how we are often more trusting than we think and how easily our trust in others can be distorted. He illustrates these insights with accounts of some of the most striking and well-known trust violations that have occurred in modern times and unveils the crucial secrets behind when and why our attempts to repair trust are effective, and which breaches of confidence are just too deep.
How Trust Works transforms our understanding of our deepest bonds, giving us the tools to build strong and supportive relationships on every level. With our families, coworkers, and friends. With the groups, organizations, and institutions that touch our lives. And even with societies and nations.
Praise for How Trust Works: The Science of How Relationships Are Built, Broken, and Repaired
"Written with wit and compassion, How Trust Works brims with insights about our judgements of others' actions and the ways that our intuitions can sometimes lead to irrational conclusions. With enormous implications for individuals, businesses, and society, this is an eye-opening read for anyone who wishes to understand human behavior and relationships." —David Robson, author of The Intelligence Trap and The Expectation Effect
"How Trust Works is engaging, evidence-based, and deeply important. Peter Kim explains why you trust others, how trust can be damaged, and how it can be repaired. In doing so, he offers an invaluable guide to improving all of your relationships. Every interaction is based on trust, which makes How Trust Works a must-read." —Katy Milkman, author of How to Change

"At a time when trust feels elusive, renowned scholar Peter Kim offers us a much-needed, evidence-based guide to understand how trust works. Current, urgent, and fueled by Dr. Kim's humanity, How Trust Works left me with greater clarity and a sense of hope." —Dolly Chugh, author of A More Just Future and The Person You Mean to Be