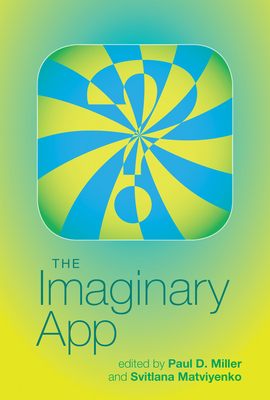 The Imaginary App (Software Studies)
Publication Date:
August 29th, 2014
Special Order - Subject to Availability
Description
The mobile app as technique and imaginary tool, offering a shortcut to instantaneous connection and entertainment.
Mobile apps promise to deliver (h)appiness to our devices at the touch of a finger or two. Apps offer gratifyingly immediate access to connection and entertainment. The array of apps downloadable from the app store may come from the cloud, but they attach themselves firmly to our individual movement from location to location on earth. In The Imaginary App, writers, theorists, and artists—including Stephen Wolfram (in conversation with Paul Miller) and Lev Manovich—explore the cultural and technological shifts that have accompanied the emergence of the mobile app. These contributors and interviewees see apps variously as "a machine of transcendence," "a hulking wound in our nervous system," or "a promise of new possibilities." They ask whether the app is an object or a relation, and if it could be a "metamedium" that supersedes all other artistic media. They consider the control and power exercised by software architecture; the app's prosthetic ability to enhance certain human capacities, in reality or in imagination; the app economy, and the divergent possibilities it offers of making a living or making a fortune; and the app as medium and remediator of reality.
Also included (and documented in color) are selected projects by artists asked to design truly imaginary apps, "icons of the impossible." These include a female sexual arousal graph using Doppler images; "The Ultimate App," which accepts a payment and then closes, without providing information or functionality; and "iLuck," which uses GPS technology and four-leaf-clover icons to mark places where luck might be found.
Contributors
Christian Ulrik Andersen, Thierry Bardini, Nandita Biswas Mellamphy, Benjamin H. Bratton, Drew S. Burk, Patricia Ticineto Clough, Robbie Cormier, Dock Currie, Dal Yong Jin, Nick Dyer-Witheford, Ryan and Hays Holladay, Atle Mikkola Kjøsen, Eric Kluitenberg, Lev Manovich, Vincent Manzerolle, Svitlana Matviyenko, Dan Mellamphy, Paul D. Miller aka DJ Spooky That Subliminal Kid, Steven Millward, Anna Munster, Søren Bro Pold, Chris Richards, Scott Snibbe, Nick Srnicek, Stephen Wolfram
Praise for The Imaginary App (Software Studies)
If you fancy flexing your mental muscle and peering round the corner into the not too distant digital future, I recommend you keep your eye on DJ Spooky and add The Imaginary App to your reading list.—Jim Boulton, Digital Archaeology—