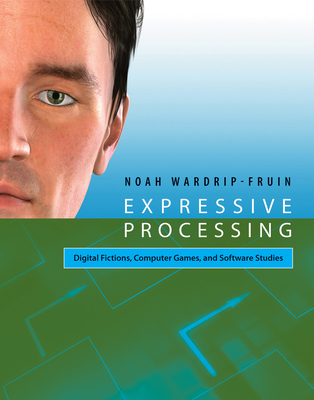 Expressive Processing: Digital Fictions, Computer Games, and Software Studies
Publication Date:
February 10th, 2012
Special Order - Subject to Availability
Description
From the complex city-planning game SimCity to the virtual therapist Eliza: how computational processes open possibilities for understanding and creating digital media.
What matters in understanding digital media? Is looking at the external appearance and audience experience of software enough—or should we look further? In Expressive Processing, Noah Wardrip-Fruin argues that understanding what goes on beneath the surface, the computational processes that make digital media function, is essential.
Wardrip-Fruin looks at "expressive processing" by examining specific works of digital media ranging from the simulated therapist Eliza to the complex city-planning game SimCity. Digital media, he contends, offer particularly intelligible examples of things we need to understand about software in general; if we understand, for instance, the capabilities and histories of artificial intelligence techniques in the context of a computer game, we can use that understanding to judge the use of similar techniques in such higher-stakes social contexts as surveillance.
Praise for Expressive Processing: Digital Fictions, Computer Games, and Software Studies
The perfect volume to begin the new publication series in software studies.... Inspiring.—Game Studies—
I highly recommend this book to digital media—games, movies, and fiction—creators, AI students, and engineers.
—Computing Reviews—
In Wardrip-Fruin's Expressive Processing, the field of 'interactive entertainment' comes of age; its theories and methods are native to its medium, rather than borrowed from literature, film, or history....Required reading.
—JAC—
Through insightful examinations of media ranging from simulations to computer games, the author presents an intriguing and cogent argument.... Recommended.
—Choice—
Wardrip-Fruin has given us an arsenal of rhetorical firepower and a powerful set of examples for how one might teach algorithmic literacy across the curriculum without delving into the syntax of any particular programming language.
—Digital Humanities Quarterly—