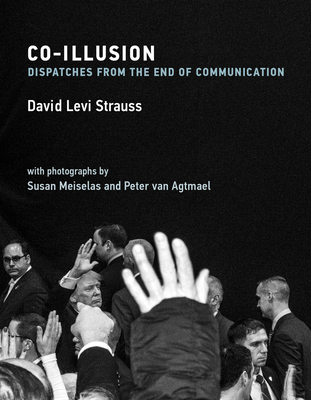 Co-Illusion: Dispatches from the End of Communication
Publication Date:
March 31st, 2020
The MIT Press Bookstore
3 on hand, as of Dec 8 10:45am
(MEDIA)
On Our Shelves Now
Description
Reports from America's political crisis, exposing a new "iconopolitics," in which words and images lose their connection to reality.
The political crisis that sneaked up on America—the rise of Trump and Trumpism—has revealed the rot at the core of American exceptionalism. Recent changes in the way words and images are produced and received have made the current surreality possible; communication through social media, by design, maximizes attention and minimizes scrutiny. In Co-Illusion, the noted writer on art, photography, and politics David Levi Strauss bears witness to the new "iconopolitics" in which words and images lose their connection to reality. The collusion that fueled Trump's rise was the secret agreement of voters and media consumers—their "co-illusion"—to set aside the social contract.
Strauss offers dispatches from the epicenter of our constitutional earthquake, writing first from the 2016 Democratic and Republican conventions and then from the campaign. After the election, he switches gears, writing in the voices of the regime and of those complicit in its actions—from the thoughts of the President himself ("I am not a mistake. I am not a fluke, or a bug in the system. I am the System") to the reflections of a nameless billionaire tech CEO whose initials may or may not be M. Z. Finally, Strauss shows us how we might repair the damage to the public imaginary after Trump exits the scene. Photographs by celebrated documentary photographers Susan Meiselas and Peter van Agtmael accompany the texts.
About the Author
David Levi Strauss is a writer and critic and Chair of the MFA program in Art Writing at the School of Visual Arts in New York. He is the author of Between the Eyes: Essays on Photography and Politics, Words Not Spent Today Buy Smaller Images Tomorrow: Essays on the Present and Future of Photography, and other books.
Praise for Co-Illusion: Dispatches from the End of Communication
"David Levi Strauss's Co-Illusion: Dispatches from the End of Communication asks the fundamental question about the Trump presidency: 'How did we get here?' An art critic and scholar of photography, Strauss grounds his observations and speculation in a deep understanding of the image, which can upend rational discourse and prevailing wisdom with astonishing speed."
– The Brooklyn Rail
"Strauss's texts are essential writing today, in a media environment run amok."
– Afterimage