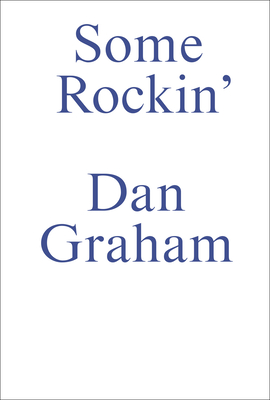 Some Rockin: Dan Graham Interviews
Publication Date:
February 23rd, 2023
Publisher:
Sternberg Press
Special Order - Subject to Availability
Description
A collection of Dan Graham's interviews and conversations with a wide array of individuals from various backgrounds and disciplines.
Dan Graham: Some Rockin' is a compilation of fifteen interviews (two of them previously unpublished) between Dan Graham and artist friends, architects, musicians, art critics, and curators from various parts of our world. In these interviews Graham's intense interest in and observation of cultural phenomena such as rock music, urbanism, architecture, corporate culture, and art world politics and their historical development overlaps and interferes with the articulated interest of the interviewers in Graham's art, sense of humor, attitude, and point of view in regard of a huge variety of topics. Two essays, besides the "Introduction," are added to this compilation: the essay "The Museum in Evolution" by Dan Graham, and an essay by the editor, Gregor Stemmrich, on the development and far reaching implications of Graham's art.
About the Author
Dan Graham (1942–2022) was an American visual artist, writer, and curator, whose artwork has been exhibited in museums and galleries around the world. His writings have appeared in Artforum, Arts, and numerous other magazines, books, and monographs.
Gregor Stemmrich is a professor of art history at the Freie Universität Berlin. In the late 1970s, as an art student, he attended the "Advanced Media Seminar" led by Dan Graham at the Nova Scotia College of Art and Design in Halifax.