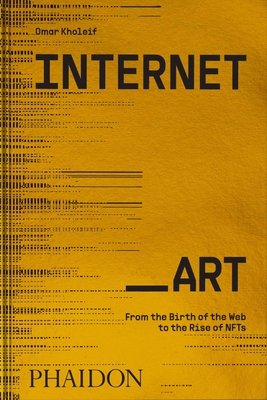 Internet_Art: From the Birth of the Web to the Rise of NFTs
Publication Date:
April 26th, 2023
Usually Ships in 1 to 5 Days
Description
A leading figure in the world of networked culture explores the artists and events that defined the mass medium of our time
Since 1989, the year the World Wide Web was born, the art world has grappled with the rise of networked culture. This unprecedented survey of the artists and innovators in this area from 1989 to today is interwoven with the personal narrative of one of the leading voices on the digital world. In this book, Omar Kholeif, whose prolific career parallels the growth of the internet, tells the story of this mass medium and how it has fostered new possibilities for artists, both analog and digital.
The book showcases work spanning a range of media from legendary artists including Lawrence Abu Hamdan, Lynn Hershman Leeson, Nam June Paik, Heather Phillipson, and Wu Tsang. Tracing the key artists and innovators from the emergence of browser-based art to the dawn of NFTs, this is a tale for the present and the future.
Praise for Internet_Art: From the Birth of the Web to the Rise of NFTs
'A deep dive into the moments that have defined art within the digital age.' – HYPEBEAST
'Omar Kholeif's INTERNET_ART explores how our cyberreality has shaped creative consumption since the 1960s. Alienation from the self, in Kholeif's telling, is art's new crisis. I await [their] sequel 20 years hence.' – New York Times
'Not a conventional survey in any sense, [Internet_Art] zips between Roy Ascott's computer-based art of the early '80s and the recent NFT craze of the past two years, stopping at various points in between to consider works [by] many other giants of the trajectory.' – ARTnews
'[Internet_Art] tells the story of digital culture as never before told ... Dr. Kholeif successfully manages to spotlight the underrepresented voices in digital culture, particularly those who documented it [since] 1989.' – Hypebae
'Informative and fast-moving … Kholeif's takes on how art can change (and be changed by) technology are shrewd. Art historians and those interested in contemporary art will find much to gain.' – Publishers Weekly
'An accessible and enjoyable experience … Kholeif is your personal guide on a fast-paced voyage through time and cyberspace. The content in Internet_Art is thorough, comprehensive and up-to-the-minute. No stone is left unturned.' – Aesthetica
'This will be an enlightening, intellectual ride through how the most important technological development of our time fuelled and finessed art around the world. For others, it will be a David Foster Wallace doom scroll, navel-gazing at its own anxiety spiral.' – New York Journal of Books
'Kholeif makes a compelling case for paying special attention to artists' voices as this great debate [about the internet] unfolds.' – Los Angeles Review of Books
'Compulsively readable and relatable. Internet_Art is a remarkable feat—a field guide and a meta-exhibition catalogue of human history. It is a rightfully gilded portrait of our less-than-gilded era.' – Prof. Bruce Jenkins, Professor of Film, Video, New Media, and Animation at the School of the Art Institute of Chicago and co-author, Andy Warhol Film Catalogue Raisonne
'In Internet_Art , Omar Kholeif expertly traces the history of art in the networked age. Revealing new insights throughout, the author examines the work of those who contextualize and proliferate art—the individuals who far too often are overlooked.' – Jay Mollica, Director of Digital Engagement, Perez Art Museum, Miami
'Part memoir, part social history, this book is akin to a piece of travel writing through the internet, meeting a host of artists who challenge and make visible what the internet is, or could be. The World Wide Web is a territory we all surf, but have not experienced with the specificity or breadth of Omar Kholeif's very personal account. There are caleidoscopic jewels all over this.' – Khalid Abdalla, actor, activist and filmmaker
'More than a history of internet art, Kholeif has woven a vivid autobiographical tapestry. In the patterns and cultural shifts of the past three decades, they find the beauty and bravery that marked this era of experimentation.' – Prof. Kate Crawford, author of Atlas of AI
'Outstandingly charming and insightful.' – Prof. Roy Ascot, Artist; Founding President of the Planetary Collegium, Emeritus Professor of Technoetic Arts Plymouth University, and the De Tao Master of Technoetic Arts at the DeTao Masters Academy, Shanghai
'Kholeif has authored a memoir that seeks to challenge perceptions of representation as much as a field guide to the world of all things digital.' – Osman Yousefzada, Artist and author of The Go-Between
'There's no way A.I. could have written this book. It took Kholeif's genuine intelligence and their broad knowledge of recent history to make sense of something that most often feels unstructured and random.' – Douglas Coupland, Author of Generation X, JPod, and Bit Rot
'Omar Kholeif's innovative act of storytelling brings a subterranean history of artists' endeavors to light, revealing the basis for and pointing towards the future of the most relevant themes in contemporary culture. An absolutely essential guide.' – Trevor Paglen, Artist, author, and MacArthur "Genius" Fellow
'An essential guide and companion to what will undoubtedly be our century's most transformative journey. A gifted writer and cultural commentator, Kholeif's personal odyssey gives form and insight to the contours of a cultural landscape whose further shores have yet to be defined.' – Neville Wakefield, Writer, Curator; Artistic Director, Desert X
'Not a standard compendium ... but an altogether odder, more intimate affair … Kholeif is adept and entertaining at showing internet art not as a school of art but work of any type characterised by its 'knowing awareness of the networked nature of our collective culture (be that cat memes or revolutions, fake news or Twitter mobs.'  – Oliver Basciano, Art Quarterly