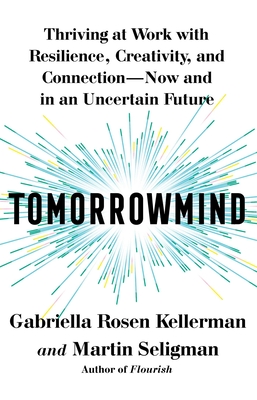 Tomorrowmind: Thriving at Work with Resilience, Creativity, and Connection—Now and in an Uncertain Future
Publication Date:
January 17th, 2023
The MIT Press Bookstore
1 on hand, as of Dec 7 10:28am
(BUSIN)
On Our Shelves Now
Description
Thrive in your career with this radical, future-proofed approach to work in a world where automation, globalization, and downsizing are an urgent and threatening reality—from experts in workplace mental health, Gabriella Kellerman, CPO of BetterUp, and world-renowned psychologist Martin Seligman.
In recent years, workplace toxicity, industry volatility, and technology-driven turnover have threatened the psychological well-being of employees. When we can't flourish at work, both personal success and corporate productivity suffer. As we sit on the cusp of some of the most turbulent economic changes in history, many of us wonder how we can not only survive but flourish in our careers.
Now, Tomorrowmind provides essential plans and actionable advice for facing the uncertain future of work. With in-depth and clear-eyed evidence, it offers key skills on everything from resilience and innovation to social connection and foresight. Cultivate a workplace that fosters connection and meaning for yourself or your employees with this timely and crucial guide that is destined to inspire generations of workers.
Praise for Tomorrowmind: Thriving at Work with Resilience, Creativity, and Connection—Now and in an Uncertain Future
"Evolution didn't equip us to meet the rapidly changing demands of the modern workplace—so what steps can we take to be happier and more resilient in our work lives? Tomorrowmind draws on cutting-edge research and real-life examples to provide deep insights as well as practical suggestions for flourishing at work. It's an indispensable resource to anyone navigating today's uncertain world."
— Gretchen Rubin, #1 bestselling author of The Happiness Project and host of the Happier with Gretchen Rubin podcast
"We are always told to live in the present. But the future holds our dreams, and may be the key to our happiness. In Tomorrowmind, Gabriella Kellerman and Martin Seligman masterfully navigate the newest science to show us how we can design our futures to thrive as individuals in work, relationships, and life."
— Arthur C. Brooks, Professor, Harvard Kennedy School and Harvard Business School, and #1 New York Times bestselling author
"In this profoundly important and timely book, Kellerman and Seligman provide a blueprint for how all of us can rise to the challenge of the brave new world of work. Tomorrowmind is a scientifically grounded and eminently accessible book that will entertain you, inspire you, and teach you how to feel connected and happy at work and beyond."
— Sonja Lyubomirsky, Distinguished Professor of Psychology at the University of California, Riverside and author of The How of Happiness
"This book is a must-read guide to surviving and even thriving at work when there's potential for chaos around every corner. The skills in this book let you future-proof without leaving any part of you behind."
— Scott Barry Kaufman, author of Transcend