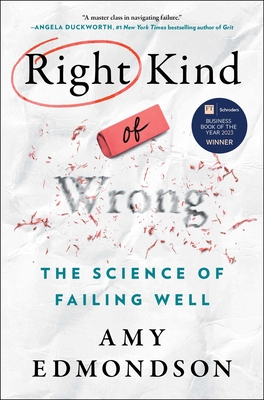 Right Kind of Wrong: The Science of Failing Well
Publication Date:
September 5th, 2023
The MIT Press Bookstore
5 on hand, as of Dec 8 10:45am
(PSYCH)
On Our Shelves Now
Description
Winner of the Financial Times and Schroders Business Book of the Year 2023
A revolutionary guide that will transform your relationship with failure, from the pioneering researcher of psychological safety and award-winning Harvard Business School professor Amy Edmondson.
We used to think of failure as the opposite of success. Now, we're often torn between two "failure cultures": one that says to avoid failure at all costs, the other that says fail fast, fail often. The trouble is that both approaches lack the crucial distinctions to help us separate good failure from bad. As a result, we miss the opportunity to fail well.
After decades of award-winning research, Amy Edmondson is here to upend our understanding of failure and make it work for us. In Right Kind of Wrong, Edmondson provides the framework to think, discuss, and practice failure wisely. Outlining the three archetypes of failure—basic, complex, and intelligent—Amy showcases how to minimize unproductive failure while maximizing what we gain from flubs of all stripes. She illustrates how we and our organizations can embrace our human fallibility, learn exactly when failure is our friend, and prevent most of it when it is not. This is the key to pursuing smart risks and preventing avoidable harm.
With vivid, real-life stories from business, pop culture, history, and more, Edmondson gives us specifically tailored practices, skills, and mindsets to help us replace shame and blame with curiosity, vulnerability, and personal growth. You'll never look at failure the same way again.
Praise for Right Kind of Wrong: The Science of Failing Well
"Amy Edmondson, one of our finest business minds, offers a bold new perspective on human fallibility. With a graceful mix of scientific research and practical advice, she shows how to transform failure from an obstacle to a steppingstone — from a weight that holds up back to a wind that propels us forward. Right Kind of Wrong is guidebook for our times."
— Daniel H. Pink, #1 New York Times bestselling author of The Power of Regret and Drive
"No skill in life is more important than learning from failure—and no one on earth knows more about it than Amy Edmondson. Drawing on her eye-opening evidence and rich practical experience, she offers a wealth of insight on how to take intelligent risks and bounce forward after setbacks. If everyone internalized the ideas in this important book, we would all be safer, smarter, and more successful."
— Adam Grant, #1 New York Times bestselling author of Think Again and Hidden Potential, and host of the TED podcast Re:Thinking
"A masterclass in navigating, and even seeking out, the inevitable failures that pave the way to success. The incomparable Amy Edmondson shows us how to see failures as beginnings rather than endings—and how to create the conditions for failing well. Comprehensive, clear, and full of real-world examples, a must-read for performers and leaders alike."
— Angela Duckworth, New York Times bestselling author of Grit
"The noble failure is essential to innovation and growth. But what is the difference between the noble failure, the sloppy mistake, and blameworthy sabotage? How can you make sure you're creating the conditions for success? Right Kind of Wrong will help you take the kind of risks you have to take in order to succeed in your career and in life."
— Kim Scott, author of Radical Candor and Just Work
"Amy Edmondson's intelligent, warm and funny Right Kind of Wrong will take you through the landscape of failure – the good ones that we learn from, the stupid ones we wish we could roll back, and the catastrophic ones we would all benefit from collaborating to avoid. It's packed with examples and stories and lands with some meaningful ideas about how you can cultivate awareness to, indeed, fail well."
— Rita McGrath, bestselling author of The End of Competitive Advantage
"Failing is such an important part of living and leading. Finally, we have the book that will help us learn how to fail well. In it, Amy shares with us very practical tools and advice illustrated by many inspiring, jaw-dropping stories. A breakthrough book that every leader needs to study and begin applying. It will make the world a better place."
— Hubert Joly, Senior Lecturer at Harvard Business School, former Best Buy Chairman and CEO, and Author, The Heart of Business 
"Creating an environment that is safe for solving difficult problems is one of the most important things we can do. With great clarity and insight, Amy shows us how we can make room for failure, recognizing that our emotions and personal needs are part of the solution. Right Kind of Wrong will inspire you to do your boldest work."
— Ed Catmull, bestselling author of Creativity Inc.
"The best book ever written on learning from failure by the researcher who taught millions of us about the power of psychological safety in our workplaces. Right Kind of Wrong is packed with Amy Edmondson's relentless wisdom and warmth, and above all, proven solutions that will help you build teams and companies where we fallible humans can thrive."
— Robert I. Sutton, New York Times bestselling author of The Friction Project, Scaling Up Excellence, and Good Boss, Bad Boss
"Right Kind of Wrong is the ultimate self-help book: powerful ideas combined with practical tools. My advice is to snap shots of the book's eight illustrations – each a gem – and tack them up in front of your desk. You will be more effective immediately and on a faster learning curve going forward."
— Roger L. Martin, author of A New Way to Think
"This book is as important as any I, among the most avid of readers, have ever encountered. It's that simple. No topic is more important than the assessment and understanding of failure. Amy Edmondson has broken entirely new ground; and for those who take the trouble, I no less than guarantee Right Kind of Wrong will be a "game-changer." The result of serious study and application of this tome will be one of the most important steps in your professional life."
— Tom Peters, bestselling author of In Search of Excellence and Tom Peters Compact Guide to Excellence