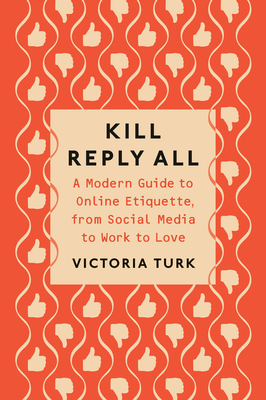 Kill Reply All: A Modern Guide to Online Etiquette, from Social Media to Work to Love
Publication Date:
January 7th, 2020
The MIT Press Bookstore
2 on hand, as of Dec 4 10:31am
(SS)
On Our Shelves Now
Description
Want to Marie Kondo your digital life and develop a more tactful approach to technology? By a leading tech and digital culture journalist, Kill Reply All is a guide to tidying it all up. 
 
How do you reply to your colleague's weird email? What would Emily Post say about your Tinder profi le? And just how do you know if you're mansplaining? In this irreverent journey through the murky world of digital etiquette, Wired's Victoria Turk provides an indispensable guide to minding our manners in a brave new online world, and making peace with the platforms, apps, and devices we love to hate.
 
The digital revolution has put us all within a few clicks, taps, and swipes of one another. But familiarity can breed contempt, and while we're more likely than ever to fall in love online, we're also more likely to fall headfirst into a raging fight with a stranger or into an unhealthy obsession with the phones in our pockets. If you've ever encountered the surreal, aggravating battlefields of digital life and wondered why we all don't go analog, this is the book for you.
Praise for Kill Reply All: A Modern Guide to Online Etiquette, from Social Media to Work to Love
"Victoria Turk's Kill Reply All: A Modern Guide to Online Etiquette, From Social Media to Work to Love is one of the more amusing digital-etiquette books you'll read. Simply put, social media has created a new universe of ways we can be mean to one another. So digital good manners are a great kindness, whether they apply to friends, work or love."
—The New York Times Book Review

"Don't get cancelled, check out Kill Reply All by Victoria Turk instead. This helpful field guide to all things social media will teach you everything you need to know about email etiquette, online dating, mansplaining and the ins and outs of being an upstanding digital citizen in the 21st century."
—Engadget
"[Turk] has a flair for humorous writing and her anecdotes are as entertaining as they are constructive. There is a charming British tilt to Turk's advice, including a brief section entitled 'How do you address an email to the Queen?'… Kill Reply All will speak to those who grew up in the analog era but who have, for better or worse, wholly embraced the technology revolution. It picks up where etiquette experts like Emily Post left off, providing a necessary counterpoint to the wild west nature of the smartphone-dominated digital age."
—Shelf Awareness
"The ultimate guide to online etiquette."
—Parade.com
"Victoria is a delightful writer, and anyone with questions about how to behave online absolutely needs this book."
—Medium
"This manual may seem tongue-in-cheek, but it actually offers valuable advice on minding your digital manners… this tome is a must for anyone who uses their hands to communicate—so basically, everyone."
—Star Magazine
"No more wrangling a bloated inbox. No more tangled message threads. No more angling for forgiveness on communication if you read Kill Reply All. For every businessperson who wants to do right and do better, this book will be a hit."
—The Bookworm Sez

"[Turk] playfully updates etiquette protocol for the modern era with this helpful guide… While this digital-age primer will be of most interest to those who didn't grow up with the internet, even online natives will find Turk's savvy advice a joy."
—Publishers Weekly (starred review)
"A clever and informative guide to online etiquette."
—Bookpage