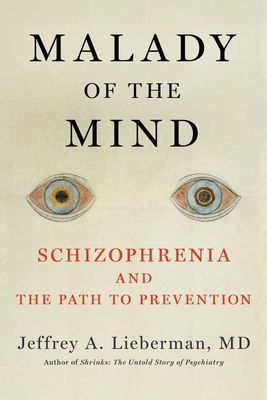 Malady of the Mind: Schizophrenia and the Path to Prevention
Publication Date:
February 21st, 2023
The MIT Press Bookstore
1 on hand, as of Dec 8 10:45am
(PSYCH)
On Our Shelves Now
Description
"The most important book about schizophrenia in decades, and perhaps ever…a total game-changer." —Sylvia Nasar, author of A Beautiful Mind
A comprehensive, deeply researched, and highly readable portrait of schizophrenia—its history, its various manifestations, and how today's treatments have promising and often lifesaving potential.
This "incredibly captivating" (Siddhartha Mukherjee, author of The Emperor of All Maladies) portrait of schizophrenia, the most malignant and mysterious mental illness, by renowned psychiatrist Jeffrey Lieberman, interweaves cultural and scientific history with dramatic patient profiles and clinical experiences to impart a revolutionary message of hope. For the first time in history, we can effectively treat schizophrenia, limiting its disabling effects—and we're on the verge of being able to prevent the disease's onset entirely.
Drawing on his four-decade career, Dr. Jeffrey Lieberman expertly illuminates the past, present, and future of this historically dreaded and devastating illness. Interweaving history, science, and policy with personal anecdotes and clinical cases, Malady of the Mind is a rich, illuminating experience written in accessible, fluid prose. From Dr. Lieberman's vantage point at the pinnacle of academic psychiatry, informed by extensive research experience and clinical care of thousands of patients, he explains how the complexity of the brain, the checkered history of psychiatric medicine, and centuries of stigma combined with misguided legislation and health care policies have impeded scientific advances and clinical progress. Despite this, there is reason for optimism: by offering evidence-based treatments that combine medication with psychosocial services and principles learned from the recovery movement, doctors can now effectively treat schizophrenia by diagnosing patients at a very early stage, achieving a mutually respectful therapeutic alliance, and preventing relapse, thus limiting the progression of the illness. Even more promising, decades of work on diagnosis, detection, and early intervention have pushed scientific progress to the cusp of prevention—meaning that in the near future, doctors may be able to prevent the onset of this disorder.
A must-read for those interested in medical history, psychology, and those whose lives have been affected by schizophrenia, this "penetrating, important" (Andrew Solomon, author of Noonday Demon) work offers a comprehensive scientific portrait, crucial insights, sound advice for families and friends, and most importantly, hope for those sufferers now and future generations.
Praise for Malady of the Mind: Schizophrenia and the Path to Prevention
"A renowned psychiatrist explains the process and history of a debilitating, pervasive mental illness [and] argues persuasively that the public understanding of schizophrenia is limited… As he did in Shrinks, the author presents an informative, authoritative package. A compelling and engaging story that shines much-needed light into a dark corner of modern society."
—Kirkus
"In this penetrating, important book—at once scholarly and highly readable, authoritative and anecdotal—Jeffrey Lieberman introduces us to the strange and frightening world of schizophrenia, charting its history, its treatments, its highly varied manifestations and insidious causes.  He writes with compelling optimism about psychiatry's great leaps forward; explains when, how, and why the antipsychotics work; and allows us to glimpse the future possibility of prevention.  He is perhaps the leading authority working on this topic today, and here he makes the complex science he has mastered fully accessible.  If someone I know were diagnosed today, this is the volume to which I would immediately turn, and copies of which I'd distribute to the patient's friends and family.  It will spare such people from anguish and perhaps save their lives."
—Andrew Solomon, author of The Noonday Demon and Far from the Tree
"Lieberman's book is one of the deepest and most comprehensive explorations, yet, of schizophrenia, perhaps the most mysterious among the maladies of the mind. Replete with stories of patients and researchers, he writes with that rare combination of authority, empathy and curiosity that makes this an incredibly captivating book."
—Siddhartha Mukherjee, author of The Emperor of All Maladies and The Gene
"In Malady of the Mind, Dr. Lieberman tackles one of the most complex and misunderstood mental health conditions with precision, compassion, and grace. Grounded in historical context and Lieberman's own rich clinical expertise, the book offers readers a meaningful understanding of the past, present, and promising future of schizophrenia treatment."
—Former U.S. Congressman Patrick J. Kennedy, founder of The Kennedy Forum
"As he did in his previous book, Shrinks: The Untold Story of Psychiatry, Dr. Lieberman skillfully renders a complex disease accessible to all while telling a spellbinding story. The great strength of this book is its clear, compelling exposition of how schizophrenia can and should be successfully treated. In doing so, Lieberman confronts us with the fact that "we know what to do but we just don't do it," and audaciously brands this a "social injustice." The book will enlighten and inspire all who encounter schizophrenia, either personally or professionally, and is highly recommended." 
—E. Fuller Torrey, MD, author of Surviving Schizophrenia and founder of the Treatment Advocacy Center
"Malady of the Mind is the most important book about schizophrenia in decades, and perhaps ever. In addition to telling schizophrenia's fascinating history, Dr. Lieberman gives readers a new scientific understanding of the disease and an evidence-based protocol for its diagnosis and management. Equally important, he challenges policymakers to provide the standard of care that current and future patients have the right to expect. Focused on early, effective intervention and preventing damage, approaches modern medicine has long since adopted for other illnesses, he has written a total game-changer."
—Sylvia Nasar, author of A Beautiful Mind