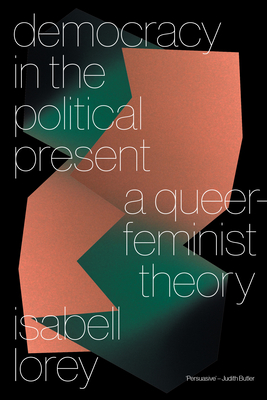 Democracy in the Political Present: A Queer-Feminist Theory
Publication Date:
November 15th, 2022
The MIT Press Bookstore
1 on hand, as of Dec 7 10:28am
(POLSI)
On Our Shelves Now
Description
"Presentist democracy is without a people and without nation. Rather than regimes of borders and migration, its borders are sexism and racism, homo- and transphobia, colonialism and extractivism."

In the midst of the crises and threats to liberal democracy, Isabell Lorey develops a democracy in the present tense; one which breaks open political certainties and linear concepts of progress and growth. Her queer feminist political theory formulates a fundamental critique of masculinist concepts of the people, representation, institutions, and the multitude. In doing so, she unfolds an original concept of a presentist democracy based on care and interrelatedness, on the irreducibility of responsibilities—one which cannot be conceived of without social movements' past struggles and current practices.
Praise for Democracy in the Political Present: A Queer-Feminist Theory
"This book is an assembly - a collection of voices from Germany and Spain, Italy, England, France and every country - a colourful and strong intersection of proposals in search for a (transnational and non-identitarian) democracy of the multitude and of difference, of truth and the joy of life."
—Antonio Negri, co-author of Empire
"Weaving and unweaving the political philosophy of Rousseau, Derrida, Benjamin, Foucault and Negri, Isabell Lorey assembles a constellation of debates around keywords: democracy, time, sovereignty, commune. She does so in order to systematize the discontinuous struggles that inhabit these words, the possible futures that their meanings open up, and to place them at the disposal of a queer-feminist theory that locates the strike as one of its inspirational practices. Thus an "infinitive present" opens up as a time of becoming, defined by the encounter of bodies, which expands the present through processes of indeterminate differentiation. By highlighting the non-democratic foundations of democracy one by one, the definition of a "Presentist Democracy" emerges. This is woven out of care and debt: collective care and the debts of assuming relations of interdependence. This book is a tool for continuing to nourish the desire to change everything"
—Verónica Gago
"With great clarity and precision, Isabell Lorey offers a series of readings of major political thinkers to delineate the mobile constellation of democratic potentials in our time. Revisiting basic concepts such as the people, the law, and sovereignty, Lorey derives an account of democracy in the present. Less a utopian manifesto than an experimentation with the means and time of politics, this work shows us in persuasive terms how enduring and persistent experimentation constitutes our present struggle."
—Judith Butler
"In careful and imaginative consideration of the brutal tensions of a liberal democratic ideal poised between imminent collapse and infinite adaptability, Isabell Lorey conceives an alternative in the present tense, broadening and deepening the now with fierce urgency. Democracy in the Political Present is feminist political theory of and for our time."
—Fred Moten
"Insightfully weaving together the best of European political philosophy (from Rousseau to Negri, from Benjamin to Foucault), queer-feminist thinking about care and debt, and the practices of radical democracy that occupy the streets and the squares in recurring waves, Isabell Lorey convokes a democracy in present tense that is up to the challenges of these turbulent times. Not to be missed."
—Marta Malo, member of Precarias a la deriva
"Engaging ... [Lorey] offers an elaborate sketch of a form of political organisation that has hitherto been neglected as well as a scathing critique of the representationalist paradigm that needs to be taken into account whenever inclusion is spoken of too frivolously."
—Julius Schwarzwälder, LSE Review of Books