Discounted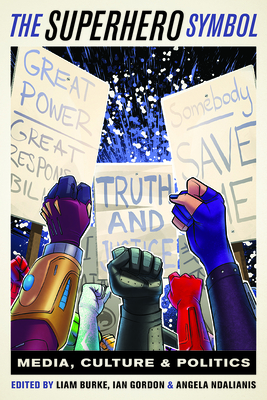 The Superhero Symbol: Media, Culture, and Politics
Previous price:

$39.95
Current price:

$32.95
Publication Date:
December 13th, 2019
Publisher:
Rutgers University Press
The MIT Press Bookstore
2 on hand, as of Nov 30 10:32am
(SS)
On Our Shelves Now
Description
"As a man, I'm flesh and blood, I can be ignored, I can be destroyed; but as a symbol... as a symbol I can be incorruptible, I can be everlasting". In the 2005 reboot of the Batman film franchise, Batman Begins, Bruce Wayne articulates how the figure of the superhero can serve as a transcendent icon.
 
It is hard to imagine a time when superheroes have been more pervasive in our culture. Today, superheroes are intellectual property jealously guarded by media conglomerates, icons co-opted by grassroots groups as a four-color rebuttal to social inequities, masks people wear to more confidently walk convention floors and city streets, and bulletproof banners that embody regional and national identities. From activism to cosplay, this collection unmasks the symbolic function of superheroes.
 
Bringing together superhero scholars from a range of disciplines, alongside key industry figures such as Harley Quinn co-creator Paul Dini, The Superhero Symbol provides fresh perspectives on how characters like Captain America, Iron Man, and Wonder Woman have engaged with media, culture, and politics, to become the "everlasting" symbols to which a young Bruce Wayne once aspired. 
 
Praise for The Superhero Symbol: Media, Culture, and Politics
"With contributions by an imposing list of scholars, The Superhero Symbol offers readers enlightening essays on the politics of the superhero, on the commercial branding, nationalism and national identity, on sexuality and sexual identity, and on the culture and mythology of the superhero; in short, everything about the superhero that you never asked because it never even occurred to you to ask."
— Trina Robbins
"This extraordinary league of transmedial comics scholars pull off the impossible: the definitive tome on how global industries create and planetary consumers actively engage with the superhero symbol. The tack-sharp cross-disciplinary scholarship along with deep-probe interviews with industry titans take us on a wild journey through time and space to forcefully show how those costume-clad full-chested insignias and sky-beamed icons are much more than expressions of fan-boy wish fulfilment fantasies. Provocative. Field defining. A must read!"
— Frederick Luis Aldama
"Throughout the essays cross-refer, giving the collection considerable unity. Combining fundamental concerns in superhero studies with a variety of thought-provoking special topics, and studded with color illustrations, this is a worthwhile collection for both knowledgeable scholars and newcomers to superhero studies. Recommended."
— Choice
"There is a lot of ground covered in this book, much of which will make you think beyond your normal perimeters and that's never a bad thing and makes for an interesting book."
— SFcrowsnest