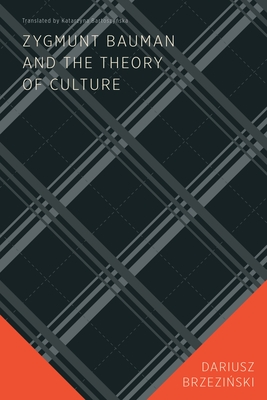 Zygmunt Bauman and the Theory of Culture
Publication Date:
December 15th, 2022
Publisher:
McGill-Queen's University Press
The MIT Press Bookstore
1 on hand, as of Dec 8 10:45am
(PHILO)
On Our Shelves Now
Description
One of the most influential intellectuals of the twentieth and twenty-first centuries, sociologist and philosopher Zygmunt Bauman (1925–2017) made reflection on culture a fundamental part of his academic work. He published a substantial number of papers on the topic, and many of his concepts would go on to significantly influence the social sciences and humanities. Bauman began his theoretical studies on culture when working at the University of Warsaw and continued them all his life. Inspired by the many intellectual currents he encountered over his more than six decades of work, Bauman wrote on culture in the contexts of such issues as Marxism and socialism, modernity and the Holocaust, postmodernity and liquid modernity, and contemporary nostalgia. In Zygmunt Bauman and the Theory of Culture Dariusz Brzezinski uses the evolution of Bauman's theory of culture as a prism through which to offer a comparative analysis, putting Bauman's work in conversation with the writings of other contemporary intellectuals.In this first comprehensive and critical assessment of Bauman's lifelong work on culture, Brzezinski includes Bauman's Polish-language papers and books, as well as his works discovered only posthumously, presenting them to an international audience.
About the Author
Dariusz Brzezinski is assistant professor at the Institute of Philosophy and Sociology at the Polish Academy of Sciences and a visiting research fellow at the School of Sociology and Social Policy at the University of Leeds. Katarzyna Bartoszynska is assistant professor of English and women's and gender studies at Ithaca College.
Praise for Zygmunt Bauman and the Theory of Culture
"Brzezinski has produced a valuable and original text which provides new resources for scholars interested in Bauman's work. It is true to Bauman's overall goal in his sociology which always sought a critical perspective which, in defamiliarizing the familiar, encouraged his readers to think afresh about what is and what could be. … Brzezinski shows how this key trait of Bauman's sociology, expressed in his hyperbolizing texts, can be traced back to his earliest consideration of culture in the 1960s and forward into his final pieces. In doing so, he shows how the Bauman pre-exile should count in our consideration of his sociology." European Journal of Social Theory
"In this first comprehensive and critical assessment of Bauman's lifelong work on culture, Brzezinski includes Bauman's Polish-language papers and books, as well as his works discovered only posthumously, presenting them to an international audience." Polish Sociological Review