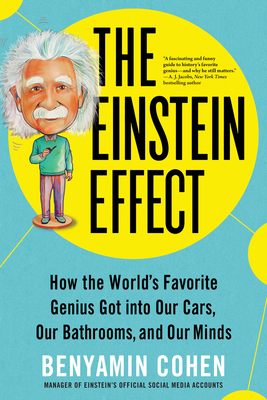 The Einstein Effect: How the World's Favorite Genius Got into Our Cars, Our Bathrooms, and Our Minds
Publication Date:
July 18th, 2023
The MIT Press Bookstore
1 on hand, as of Dec 8 10:45am
(GS)
On Our Shelves Now
Description
"A fascinating and funny guide to history's favorite genius—and why he still matters." —A.J. Jacobs, New York Times bestselling author
A fascinating look into how Einstein's genius and science continues to show up in so many facets of our everyday lives and his enduring legacy as an unlikely pop culture icon.
Albert Einstein was the first modern-day celebrity and, decades after his death, still has the world's most recognizable face. His influence is seen in much of the technology we use every day: GPS, remote controls, weather forecasts, even toothpaste. But it's not just Einstein's scientific discoveries that continue to shape our world. His legacy underpins the search for aliens, the rescue of refugees, the invention of time machines, and the debunking of fake news. He appears in new books, TV shows, and movies all the time—and fans are paying millions for Einstein relics at auction.
Award-winning author and journalist Benyamin Cohen has a bizarre side hustle as the manager of Einstein's official social media accounts, which have 20 million followers—more than most living celebrities. In The Einstein Effect, Cohen embarks on a global quest to unearth Einstein's ongoing relevance today. Along the way, he meets scientists and celebrities, speaks to dozens with the last name Einstein (including two rabbis), and even tracks down the brain of Einstein, stolen from his body during the autopsy. Cohen shows us the myriad ways the Nobel Prize winner's influence is still with us, giving an in-depth—and often hilarious—look at the world's favorite genius like you've never seen him before.
Praise for The Einstein Effect:
"Benyamin is a regular Joe with great humility, a tremendous sense of humor, a philosopher with an acute awareness of human connection, a gift to us all." —Mandy Patinkin, actor, singer, activist
"I hope this book encourages others to be inspired by Einstein as well." —Christopher Lloyd, award-winning actor
"A book for geniuses and the rest of us alike." —Derek Baxter, author of In Pursuit of Jefferson
"A thoroughly entertaining new book." —Jeff Einstein, great-great nephew of Albert Einstein
"Full of humor and surprises." —Paul Halpern, physics professor and author of Einstein's Dice and Schrödinger's Cat
Praise for The Einstein Effect: How the World's Favorite Genius Got into Our Cars, Our Bathrooms, and Our Minds
"In creating the appearance of Doc Brown in Back to the Future, Albert Einstein was my obvious inspiration because, to portray a brilliant physicist, I wanted to look like a brilliant physicist! I hope this book encourages others to be inspired by Einstein as well." — Award-winning actor Christopher Lloyd
"A fascinating and funny guide to history's favorite genius—and why he still matters." — A. J. Jacobs, New York Times bestselling author
"You don't have to be a distant relative of Albert Einstein like yours truly to appreciate Albert's profound and enduring effect on the world around us. All you need to do is read Benyamin Cohen's thoroughly entertaining new book. A full head of hair might help also." — Jeff Einstein, great-great nephew of Albert Einstein
"Albert Einstein left us some seven decades ago, but the world he created lives on—and there's no better tour guide to it than Benyamin Cohen. He serves up the science, of course, but thankfully lightened with a healthy dose of pop culture and humor. A book for geniuses and the rest of us alike." — Derek Baxter, author of In Pursuit of Jefferson
"An extraordinary, whirlwind adventure into all things Einstein, examining why the life and work of the 20th century genius still inspires and impresses us today. From Einstein's actual brain to the modern technologies that his theories anticipated, Cohen offers a masterful and astounding tour. Full of humor and surprises, The Einstein Effect is the perfect read for fans of a larger-than-life figure whose heartfelt dedication to human rights rivaled only his groundbreaking science." — Paul Halpern, physics professor and author of Einstein's Dice and Schrödinger's Cat
"Both quest and guide, it is a fascinating and funny exploration of all things Einstein, from the perspective of a lay person who never set out to become the modern-day virtual voice of history's most revered scientist." — Zoomer Magazine
"You will love this book. It has rescued me on countless occasions from sleepless nights. Benyamin is a regular Joe with great humility, a tremendous sense of humor, a philosopher with an acute awareness of human connection, a gift to us all. I promise, if you pick up this book, you'll never want to put it down." — Mandy Patinkin, actor and activist
"Readers won't find a livelier celebration of Einstein's work and life. A great recommendation for teens and adults alike" — Library Journal, STARRED Review
""General readers will appreciate the simple explanations of Einstein's innovations, and the wacky trivia amuses. It's a diverting tribute to Einstein's lasting influence." — Publishers Weekly" — Publishers Weekly
"A fun, fascinating and freewheeling account of the lasting impact Einstein has had on our lives." — New Jersey Jewish Standard
"It is such a delightful read." — Tablet Magazine's Unorthodox
"Delightful... a lot of fun." — The Pivot Podcast
"In his witty, light-hearted style, Cohen shows the idiosyncrasies as well as the brilliance of his subject, making Einstein accessible to the non-scientist reader" — Atlanta Jewish Times