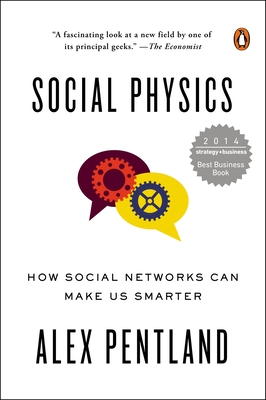 Social Physics: How Social Networks Can Make Us Smarter
Publication Date:
January 27th, 2015
The MIT Press Bookstore
1 on hand, as of Dec 8 10:45am
(MITA)
On Our Shelves Now
Description
From one of the world's leading data scientists, a landmark tour of the new science of idea flow, offering revolutionary insights into the mysteries of collective intelligence and social influence

If the Big Data revolution has a presiding genius, it is MIT's Alex "Sandy" Pentland. Over years of groundbreaking experiments, he has distilled remarkable discoveries significant enough to become the bedrock of a whole new scientific field: social physics. Humans have more in common with bees than we like to admit: We're social creatures first and foremost. Our most important habits of action—and most basic notions of common sense—are wired into us through our coordination in social groups. Social physics is about idea flow, the way human social networks spread ideas and transform those ideas into behaviors.
Thanks to the millions of digital bread crumbs people leave behind via smartphones, GPS devices, and the Internet, the amount of new information we have about human activity is truly profound. Until now, sociologists have depended on limited data sets and surveys that tell us how people say they think and behave, rather than what they actually do. As a result, we've been stuck with the same stale social structures—classes, markets—and a focus on individual actors, data snapshots, and steady states. Pentland shows that, in fact, humans respond much more powerfully to social incentives that involve rewarding others and strengthening the ties that bind than incentives that involve only their own economic self-interest.
Pentland and his teams have found that they can study patterns of information exchange in a social network without any knowledge of the actual content of the information and predict with stunning accuracy how productive and effective that network is, whether it's a business or an entire city. We can maximize a group's collective intelligence to improve performance and use social incentives to create new organizations and guide them through disruptive change in a way that maximizes the good. At every level of interaction, from small groups to large cities, social networks can be tuned to increase exploration and engagement, thus vastly improving idea flow. 
Social Physics will change the way we think about how we learn and how our social groups work—and can be made to work better, at every level of society. Pentland leads readers to the edge of the most important revolution in the study of social behavior in a generation, an entirely new way to look at life itself.
Praise for Social Physics: How Social Networks Can Make Us Smarter
The Economist:
"Social Physics is filled with rich findings about what makes people tick. Using millions of data points measured over a long period of time in real settings, which Pentland calls 'living laboratories,' the author has monitored human behavior on an unprecedented scale…Pentland's research also offers lessons for policymakers and business people. He advances a new way to protect privacy by creating something of a property right for personal information…Social Physics is a fascinating look at a new field by one of its principal geeks."
Kirkus Reviews
"A fascinating view of the future of social networks that offers intriguing possibilities."
John Abele, Co-Founder, Boston Scientific:
"Understanding, predicting and influencing human behavior has been the goal of social scientists (and leaders anywhere) since the beginning of time. Pentland's Social Physics is a major contribution to this field. By using communication tracking analysis and occasionally human sensors along with big data, he and his team are evolving a new discipline with a unique taxonomy and ontology that brings a higher level of quantification and rigor to a challenging and inherently complex field. Like Surowiecki's The Wisdom of Crowds it will spawn further work and research in a rapidly expanding new body of knowledge."
John Seely Brown, Former Chief Scientist, Xerox Corporation and director of Xerox Palo Alto Research Center (PARC):
"Read this book and you will look at tomorrow differently. Reality mining is just the first step on an exciting new journey. Social Physics opens up the imagination to what might now be measurable and modifiable. It also hints at what may lie beyond Adam Smith's invisible hand in helping groups, organizations and societies reach new levels of meaning creation. This is not just social analytics. It also offers pragmatic ways forward."
Reed E. Hundt, former chairman of the Federal Communications Commission, CEO of the Coalition for Green Capital:
"From his MIT aerie, eagle-eyed Alex Pentland has seen the future. His wise and stimulating book teaches us how ideas spring up, flow, and spread. Applying his lessons, we can act collectively to solve previously intractable social, economic and political problems. We can make organizations more productive. We can even have government achieve its proper purposes, with greater fairness and less cost. As challenges like widening inequality and runaway climate change seem to exceed our ability to design solutions, Pentland's data-driven, reality-based, yet sunny optimism about tomorrow should be eagerly welcomed by all readers."
Stephen M. Kosslyn, Former Dean of Social Science, Harvard University; Former Director, Center for Advanced Study in the Behavioral Sciences, Stanford University; Founding Dean, Minerva Schools at KGI:
"Sandy Pentland lives in the future—and it shows. This book will not only whisk you up to speed on cutting-edge research at the interface of technology, behavioral science, and the social world, but it will also give you a good sense of what could be next. Professor Pentland brilliantly analyzes how new ideas flow and how, with the emergence of the 'data-driven society,' they will increasingly influence every aspect of our lives."