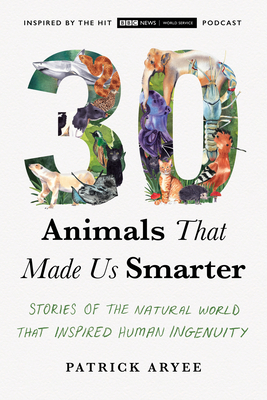 30 Animals That Made Us Smarter: Stories of the Natural World That Inspired Human Ingenuity
Publication Date:
May 12th, 2022
The MIT Press Bookstore
1 on hand, as of Dec 7 10:28am
(NATUR)
On Our Shelves Now
Description
Did you know that mosquitoes' mouthparts are helping to develop pain-free surgical needles? Who'd have thought that the humble mussel could inspire so many useful things, from plywood production to a "glue" that can cement the crowns on teeth? Or that the design of polar bear fur may one day help keep humans warm in space? In everything from fashion to architecture, medicine to transportation, it may surprise you how many extraordinary inventions have been inspired by the natural world.
Take the woodpecker as one incredible example. Woodpeckers can face up to 1,2000 Gs of force, but they're protected from brain damage by the design of their beaks and skulls. These marvels of nature have inspired an array of cutting-edge ideas, from an advanced black box recorder for airplanes to an exceptionally strong bike helmet. In 30 Animals That Made Us Smarter, join wildlife biologist, TV host, and BBC podcaster Patrick Aryee as he tells stories of biomimicry, or innovations inspired by the natural world, which enrich our lives every day—and in some cases, save them.
With Aryee's infectious curiosity and sense of wonder as inspiration, venture with us into the hidden world of biomimicry. 30 Animals That Made Us Smarter will reveal animals' exceptional powers and change the way you look at the natural world forever.
About the Author
As a biologist and self-confessed thrill seeker, Patrick Aryee has always had a fascination with how things work. Since 2012, Patrick has been a documentary filmmaker and wildlife TV presenter across a number of programs for major broadcasters, including the BBC and Sky. His ambition is to inspire and surprise us, as he takes us on a journey around the globe from the very comfort of our homes. Through his stories and animal encounters many of us have witnessed the raw power of fearsome predators like big cats, uncovered reality-defying super senses of nighttime hunters, and plunged the deep blue to swim alongside the mysterious creatures that call our oceans home. As the presenter of the hugely successful podcast 30 Animals That Made Us Smarter, Patrick now brings his words as a compelling orator to the written form in this his first book. 
Praise for 30 Animals That Made Us Smarter: Stories of the Natural World That Inspired Human Ingenuity
"Fascinating...Aryee's seamless balancing of animal facts and accessible technology writing makes for a thoroughly engaging and enjoyable read."
— Booklist, starred
"Birds and bugs take up nearly a third of this fun, wide-ranging book that reveals dozens of ways humans have developed new techniques and technologies — many of them lifesaving — by observing and mimicking the animal kingdom. That's hardly the only reason to stop the extinction crisis, but it's a pretty good one."
— The Revelator
"From well-insulated polar bears to tough-headed woodpeckers and tiny tardigrades, animals have lessons to impart, and 30 Animals That Made Us Smarter shares them with a perfect balance of conviviality and scientific research…. The result is a fun book that conveys the wonder of the natural world and explains science in an accessible, creative way."
— Foreword Reviews