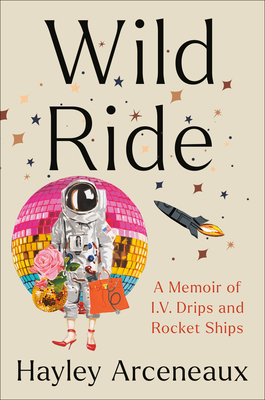 Wild Ride: A Memoir of I.V. Drips and Rocket Ships
Publication Date:
September 6th, 2022
Publisher:
Convergent Books
The MIT Press Bookstore
1 on hand, as of Dec 8 10:45am
(GS:CO)
On Our Shelves Now
Description
The youngest American to ever orbit the earth—cancer survivor Hayley Arceneaux—shows us all that when we face our fears with hope and faith, extraordinary things can happen.
"A potent reminder to all of us that nothing on earth—or in the heavens, for that matter—can keep us from becoming commanders of our own destiny."—Marlo Thomas, actor, author, and national outreach director for St. Jude Children's Research Hospital
WINNER OF THE CHRISTOPHER AWARD

In this boldly optimistic debut memoir, Hayley Arceneaux details how she overcame seemingly insurmountable odds to grab hold of a life greater than she'd ever imagined. With her signature upbeat messaging, Arceneaux recounts her odyssey, from her cancer diagnosis at age ten and the yearlong treatment that inspired her goal of working with pediatric cancer patients, to living through her father's terminal cancer diagnosis, to getting her lifelong dream job at St. Jude Children's Research Hospital as a physician assistant. She was sure she'd finally attained the life she wanted, and then the amazing and unimaginable happened: She was invited to go to space as a St. Jude ambassador.
Throughout the book, Arceneaux encourages readers to fight for the life they want, saying, You have to hold on, because you don't know what great thing can come and change your life. Take the chance and you will feel, and learn, and grow, and become even more you. Following your dreams can take you to dreams you didn't know you had.
Arceneaux's uplifting story is the inspiration we all need today. She offers wisdom and lessons in courage to anyone fighting against the odds. And through it all, she reveals how resilience and faith can help us grab hold of the life we've always wanted and live it to the fullest.
Praise for Wild Ride: A Memoir of I.V. Drips and Rocket Ships
"Hayley brings the same optimism and determination to launching into space that she did overcoming childhood cancer. Her passion for life and adventure in the face of obstacles is both moving and inspiring. If challenges loom between you and your dreams, read this book and take notes!"—Cady Coleman, retired NASA astronaut
"In her gripping and inspiring first memoir, Hayley Arceneaux exhibits just the right stuff that made her an overnight national darling and a shining role model for anyone who has faced adversity: bravery, resilience, optimism, faith, humor, honor—and enough heart to power a fleet of spaceships to the cosmos and beyond. Wild Ride is a potent reminder to all of us that nothing on earth—or in the heavens, for that matter—can keep us from becoming commanders of our own destiny."—Marlo Thomas, actor, author, and national outreach director for St. Jude Children's Research Hospital
"Wild Ride is an inspiring story of hope and inspiration that demonstrates that kids with cancer can go on to achieve great things. It's a shining example for anyone looking for the motivation to keep moving forward despite their own personal challenges. Hayley Arceneaux's vivid narratives made me feel like I was back in space. Great job, astronaut!"—Captain Scott Kelly, U.S. Navy (retired), former NASA astronaut